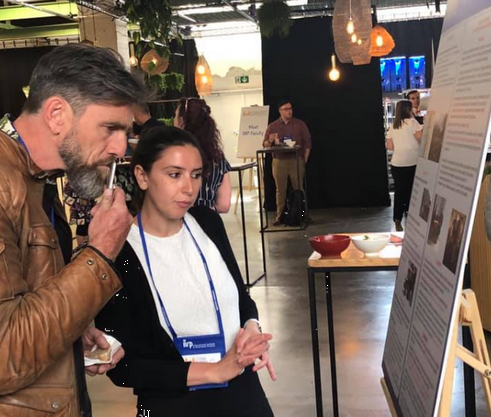 The IIRP Europe Conference on Buda Island, in Kortrijk, Belgium, explored the theme of "Community Well-Being and Resilience" over three days of keynote presentations, breakout sessions, poster presentations and networking opportunities.
Keynotes explored the intersection of restorative practices and community resilience (Joie D. Acosta), circles as a means of processing traumatic events (Kristen Verellen) and reforming governance through deliberative democracy (Brett Hennig). A panel addressed the big questions for the field of restorative practices in the 21st century (Nicola Preston, Borbála Fellegi, Fernanda Fonseca Rosenblatt, Tim Chapman and Johan Deklerck).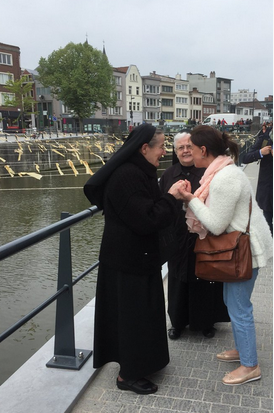 The event culminated in a beautiful closing session. Attendees gathered on the banks of the Leie River wrote words on golden flags summarizing the spirit of the conference and suspended the flags on ropes across the river, creating a golden wave. The #SorryTime campaign, featuring a circle of empty chairs placed in the town square, engaged local residents in themes developed at the conference.
IIRP Conference Manager Ben Wachtel says, "Thank you to everyone who helped make the IIRP Europe Conference a truly memorable and inspiring experience – our hosts Ligand and Oranjehuis, the city of Kortrijk, our featured speakers, breakout and poster presenters, and all of our 276 attendees from 24 countries!"
---
Breakout Sessions
A Qualitative Analysis of Restorative Practices in Prisons for Well-Being and Health Laws – Dr. K. S. Rekh Raj Jain
A Restorative Transition in Bury (England) Schools: The RESTORE Project – John Boulton, Les Davey
A Science of Human Dignity – John Bailie
Awakening Justice: Awakening to Activate – Antonio Hoye, Betsy Delzer
Being a Restorative Catholic School: How Do You Do That in Practice? – Katrien Bressers
BOUNCE Resilience Tool for Young People: Get to Know Your Critical Self in Relation with a Group – Karel Lepla
Building Resilience: The Power of Play and Compassion – Nancy Maloy
Can Communitarian Restorative Justice Lead to Structural Changes in Brazil? – Petronella Boonen
Community Processing – From Conflict to Supported Solutions: Large-Scale Intervention and Democratic Decision Making – Anke Siegers, Gert Jan Slump
Creating a Restorative School Culture – Nathan Maynard
Creating Caring Communities by Fostering Educator Resilience – Dr. Helen Boehm-Morelli
Creating or Increasing Insight and Awareness of Young Offenders (12-18 Years) During Their Stay in a Closed Institution – Jody Meyfroit
Daily Practice and Methods of Restorative Mediation for Juvenile Offenders and Victims – Nele Vanneste
Dealing with Bullying and Conflict in a Restorative Way with the Restorative Pyramid: Learning from the Prison Community of Ruiselede (Bruges) – Hannelore Pintelon, Johan Deklerck
Exploring Restorative Justice as a Means of Conflict Resolution in Further Education – Abu Zaman
Fear of Crime, Radicalisation and Restorative Approaches to Prevention Policy – Esther Friedman
From Crime and Punishment to Harm and Healing – David Watson, Lea Holland, Louis Fletcher, PhD
How Restorative Practices Is Transforming Houghton Lake Community Schools from a Punitive District into One of Understanding – Joe Holloway
How to Integrate Restorative Practices and PBIS in Schools – Laura Mooiman, LCSW
How to Work on Connection in Schools? – Alain Noëz, Fabian Willems
I Can Tell a Story: Creating Community Through Visual Storytelling – Jill Engel-Miller, Shana Lucas
Incorporating Restorative Values in Business Practice – Govert Van Ginkel
Intrajudicial Mediation Experiences in Criminal Matters Conducted by the Mediation Office of the College of Psychologists of Madrid – María del Rocío Gómez Hermoso
Law Enforcement Working with Youth in Restorative Practices – Craig Adamson, John Rosiak
Leading Conflict: How to Fight at Work – John Bailie
Movement Method: A Science-Based Approach to Enhance Learning, Well-Being and Resilience in Families, Schools and Communities – Carola Beekman
Panel Discussion: The Future of Restorative Practices – Big Questions for the 21st Century – Borbála Fellegi, Brett Hennig, Fernanda Fonseca Rosenblatt, Johan Deklerck, Nicola Preston
Pathways 2 Restorative Leadership WITH Restorative Conversations – Kevin Jones
Promise and Pitfalls of Restorative Practices for Promoting Positive School Climate and Youth Development – Joie D. Acosta, Ph.D.
Reducing Self-Stigma of Felons and Drug Addicts Through the Use of Storytelling and Photographs – Jordan Ferrick
Resilience Development as a Holistic Restorative Practice – Michael Piraino
Restorative Circles, PBIS and Middle School Students – Zorka Karanxha
Restorative Cities: To Promote a Cultural Change – Patrizia Patrizi
Restorative Deradicalization: Examining Methods of Violence Disengagement and Community Reintegration – William P. Bloss, Ph.D.
Restorative Family Services: Promoting More Democratic Practice, Improving Organisational Culture and Reducing Family Conflict – Annie Williams
Restorative Justice from Concepts to Practices at School: Challenges and Possibilities – Deise Maciel De Queiroz
Restorative Pedagogy: An Approach to Undergraduate Learning and Well-Being in a UK University – Nicola Preston
Restorative Practices and Universal Design for Learning in Schools: Where All Are Worthy and Interconnected – Sherra Robinson
Restorative Process Finding Voice in Prison – Elizabeth Beck
Restore with a Smile: The Provocative Approach – Jan Ruigrok
RP, How Do I Teach Thee? Let Me Count the Ways – Classroom, Online, Blended … – Lea Holland, Louis Fletcher, PhD, Melissa Dashner
School-Based Restorative Practices in the Middle East: One School's Journey – Aaron Feldstein
SEL for All: How to Build Resilient, Trauma-Focused Schools, Homes and Communities – Ashley Blanchard, Carrie Ramanauskas
Sitting at the Rim: Using Restorative Circles to Address Hate Speech at a Basketball Game – Michelle Cromwell
Sparking Creativity: Workplace Applications of Restorative Practices – Linda Kligman
Stories from the Field: Models for School Implementation – Pamela Buttery, Pat Lewis
Teaching Empathy and Compassion Through the Use of Identity Wheels – Fabio Arnaldo Ayala, Jordan Ferrick
The Importance of Ritual in Restorative Practices – Julie Hilt
The New Model of Grieving – Nele Vervaeke
The Restorative Power of Wounded Healers in the De-Radicalisation Context – Ana Catarina Alves Pereira
The RESTORE Project: Building a European Restorative Practices Implementation Plan – Michael Michiels, Stijn Deprez
The Sorrybox: An Online Tool with Simple Methodologies for Restorative Practices – Eric Beke
The Use of Restorative Justice in Settling Blood Feuds in Albania – Adriana Michilli
The Use of Sustained Restorative Dialogue to Help Understand and Combat Sexual Harm on Campus – Amy Giles-Mitson
"There Is No Other Choice …": Reshaping Local Communities Through Restorative Practices with the Prevention Pyramid – Johan Deklerck
To Boom: To Become One's Own Mediator – Joëlle Timmermans
Transform Trauma-Related Behavior in Children by "ACT"ing Restorative – Sharon Mast
Trauma Doulas as Critical Yeast: Sharing Resilience, Recovery, and Peace – Austin Averett
True Justice for Youth: Non-Punitive Measures of Prevention, Enrichment, Support and Restoration for Disadvantaged, Racial/Ethnic Minority and Immigrant Students – Magda Cabrero
Unsolvable Problems? Try Polarity Thinking! – Riet Portengen
Violence and Resilience in Civil Society: Achieving Structural Change Through System, Community and Individual Interventions – Chris Hessian
Welcome & Opening Session – Joie D. Acosta, Ph.D., Kristin Verellen
Wellbeing and Vitality Management at VIVES University College – Tim Vanmarcke
What Works and What Doesn't: Using Organizational Systems Theory to Develop High-Impact Practices for Professional Development – Chris Colwell, Lou L. Sabina
Without the Why, the What Looks Like More of the Same – Terry O'Connell
Written in the Stars? Shaping a New Reality in Our Communities in Late Modernity Through Restorative Practices – Johan Deklerck