Dedicated to Growing and Teaching the Science of Relationships and Community
Master of Science | Graduate Certificate | Professional Development
The International Institute for Restorative Practices (the IIRP), located in Bethlehem, PA, is the world's first accredited graduate school that specializes in studying the field of restorative practices, providing education, research, and consulting services.
At the heart of restorative practices is the understanding that human beings are instilled with the need to connect and grow with each other. The IIRP supports students and community leaders with the tools they need to transform relationships and effect change within their own lives as well as within public and private K-12 educational institutions, public and private four-year residential colleges and universities, non-governmental agencies (NGOs), and community-based organizations (CBOs). Through strong academic offerings combined with a real-life approach to education, the IIRP helps mend issues and makes resilient and meaningful relationships thrive.
As the field of restorative practices grows and evolves, we are dedicated to always being at the forefront of exploring and testing new concepts, new approaches, and new methods.
Our Mission
The mission of the International Institute for Restorative Practices Graduate School is to strengthen relationships, support communities, influence social change, and broaden the field of restorative practices by partnering with practitioners, students, and scholars.
Our Work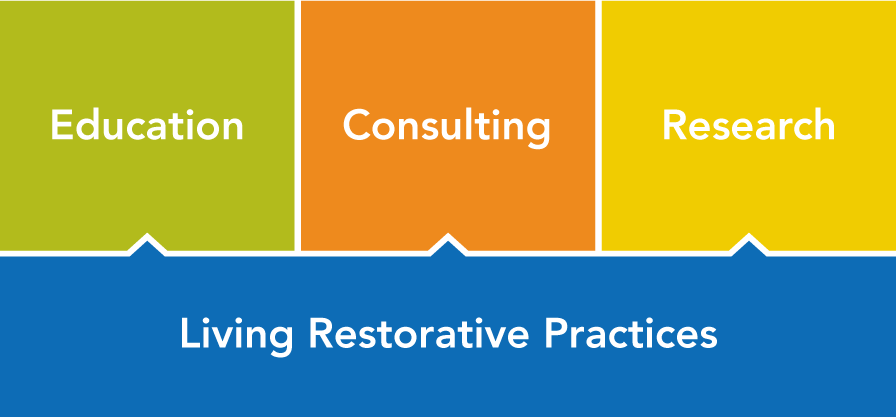 Living Restorative Practices — We model a relational approach and honor human dignity in all that we do. This is the foundation for all of our work.
Education — We provide advanced education, professional development, and transformative learning experiences.
Consulting — We deliver strategic consulting that leverages our relational expertise.
Research — We generate and disseminate knowledge regarding the influence of relationships on social health.
Our Commitment to Diversity, Equity, Inclusion, and Belonging
Dignity manifests in relationships when all people have voice, agency, and a sense of belonging. Members of our learning community have insights gained from aspects of their personal stories such as geographic location, age, ethnicity, religion, parental status, family and relationship structure, formal educational attainment, physical and mental health, socioeconomic status, gender identity and gender expression, and political affiliation. All people experience harm; we know that by attending to the needs created by that harm, we may be able to restore trust and repair relationships. As curious learners, we also must be cognizant of systemic harm and be humble as we examine our own biases, their impacts, and our actions to create a more compassionate and just future.
The IIRP draws knowledge from many sources, including Indigenous cultures from around the world, and we recognize that we have not always done this in partnership with those cultures. Cultural appropriation creates an epistemic injustice, silencing people's voice and limiting knowledge creation to those who are legitimatized by the dominant culture. It erases people's contributions and heritage, especially of diasporic and marginalized communities, perpetuating these patterns of appropriation.
To fully realize our mission, we must embrace diversity, promote equity, model inclusion, and nurture a sense of belonging. We strive to intentionally amplify the voices of marginalized people who have been silenced – including Indigenous, Black, Asian, and other people of color, women, LGBTQIA+ people, disabled people, neurodiverse people, and many other communities. We recognize and celebrate the efforts of those whose contributions have been historically hidden or forgotten.
Our Reparative Actions:
Faculty and staff create learning environments that value the many ways of knowing and producing knowledge and embed the principles of diversity, equity, inclusion, and belonging into our graduate curricula.
We cultivate welcoming, supportive, curious, and bold spaces where we respectfully listen to every voice. Faculty, staff, trustees, and learners honor the similarities and differences that are represented in our diverse shared space and challenge our communities to have authentic conversations around difficult topics.
We recognize our responsibility to provide accessible educational programs. We will also expand the capacity of our Impact Scholarships and explore other ways to minimize financial barriers for our graduate students.
We forge a reciprocal partnership with the Lenape Nation of Pennsylvania, upon whose traditional lands our school is located, referred to as Bethlehem, PA.
We commit to equitable hiring processes and supporting the development of all our employees through the cultivation of defined competencies that fortify our commitment to advance diversity, equity, inclusion, and belonging.
Our Campus
The IIRP campus is located at the corner of Main and Walnut Streets in historic downtown Bethlehem, Pennsylvania, in the heart of the Lehigh Valley, home to a variety of attractions and historic and cultural sites. Bethlehem is within driving distance of New York City, Philadelphia, Amish country and scenic Bucks County.