Our Students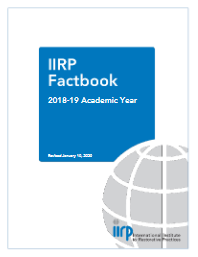 Download the 2018-2019 IIRP Factbook

The students that come to the IIRP are:
motivated by a sense of justice to create a more fair and participatory world.
determined to learn how to manage conflict and foster respect and empathy.
eager to engage individuals to have voice in decisions that impact them.
hungry to foster responsibility and learn how to hold people accountable for their actions.
Enrollment
In the past six years, graduate enrollment has grown rapidly from 95 students to 255. Our growth reflects the widening recognition of the effectiveness and applicability of restorative practices in a wide range of areas, from education and justice to social work and organizational leadership.
Academic Year 2018-2019
Total enrollment: 255
Master of Science graduates: 20
Graduate Certificates recipients: 51
Historical
Total Master of Science degrees awarded: 208
Total Graduate Certificates awarded (since 2010): 193
Non-Credit Programs
In 2018-2019 the IIRP offered events in thirty-one U.S. states & Washington, D.C. Our affiliates in Canada, Latin America and Europe offered events internationally.
As of September 1, 2019, the IIRP shares our curriculum with more than 2,000 individuals and organizations in 20 countries.