What is community health?
Community health uses public health science and evidence-based strategies to optimize the health and well-being of all persons who live, work or are otherwise active in a defined community (Goodman, Bunnell & Posner, 2014).
Distinctive features of community health include community member engagement and multi-sector collaboration. Individuals, groups and organizations work together to address health issues by taking into account the social and cultural factors relevant to the community.
How are restorative practices and community health related?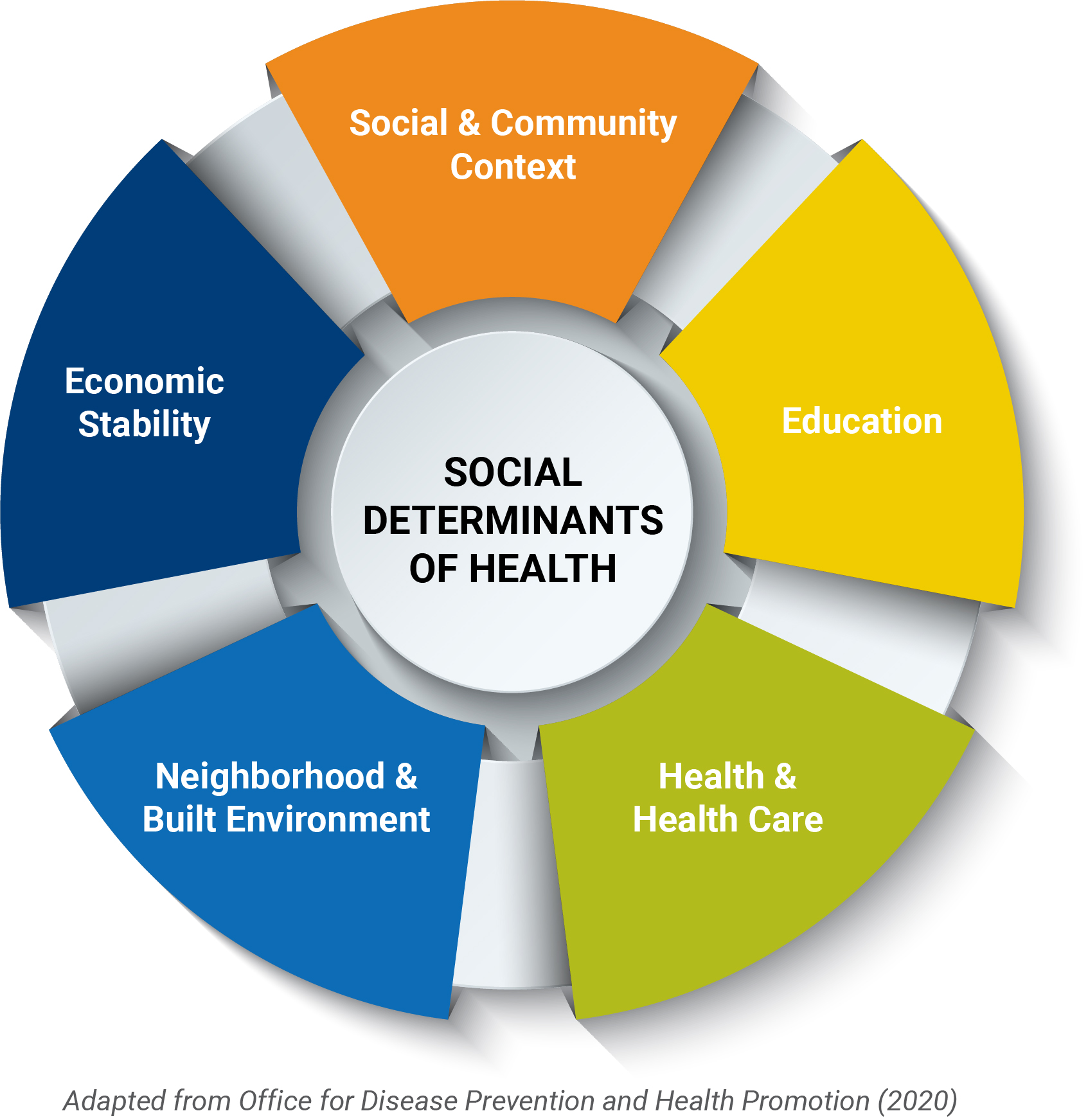 Figure 1

Restorative practices strengthens relationships between individuals as well as social connections within communities. Restorative practices can also help to increase people's personal and collective efficacy. These positive outcomes influence sense of community. People with greater sense of community are more likely to act in healthy ways and work with others to promote well-being for all.
Factors related to sense of community — which restorative practices could support — include fulfillment of needs; sense of belonging and interpersonal relatedness; a sense that one matters (has "influence") and shared emotional connection (McMillan & Chavis, 1986).
Community health recognizes these characteristics among a number of "social determinants of health," which affect a wide range of health risks and outcomes. Social determinants of health constitute the conditions in the places where people live, learn, work and play and include social and community context; education; health and health care; neighborhood and built environment; and economic stability (figure 1).
Specifically, restorative practices strengthens the social and community context, which includes social norms, patterns, beliefs and processes that influence the life of an individual or community.
How can restorative practices improve the social determinants of health?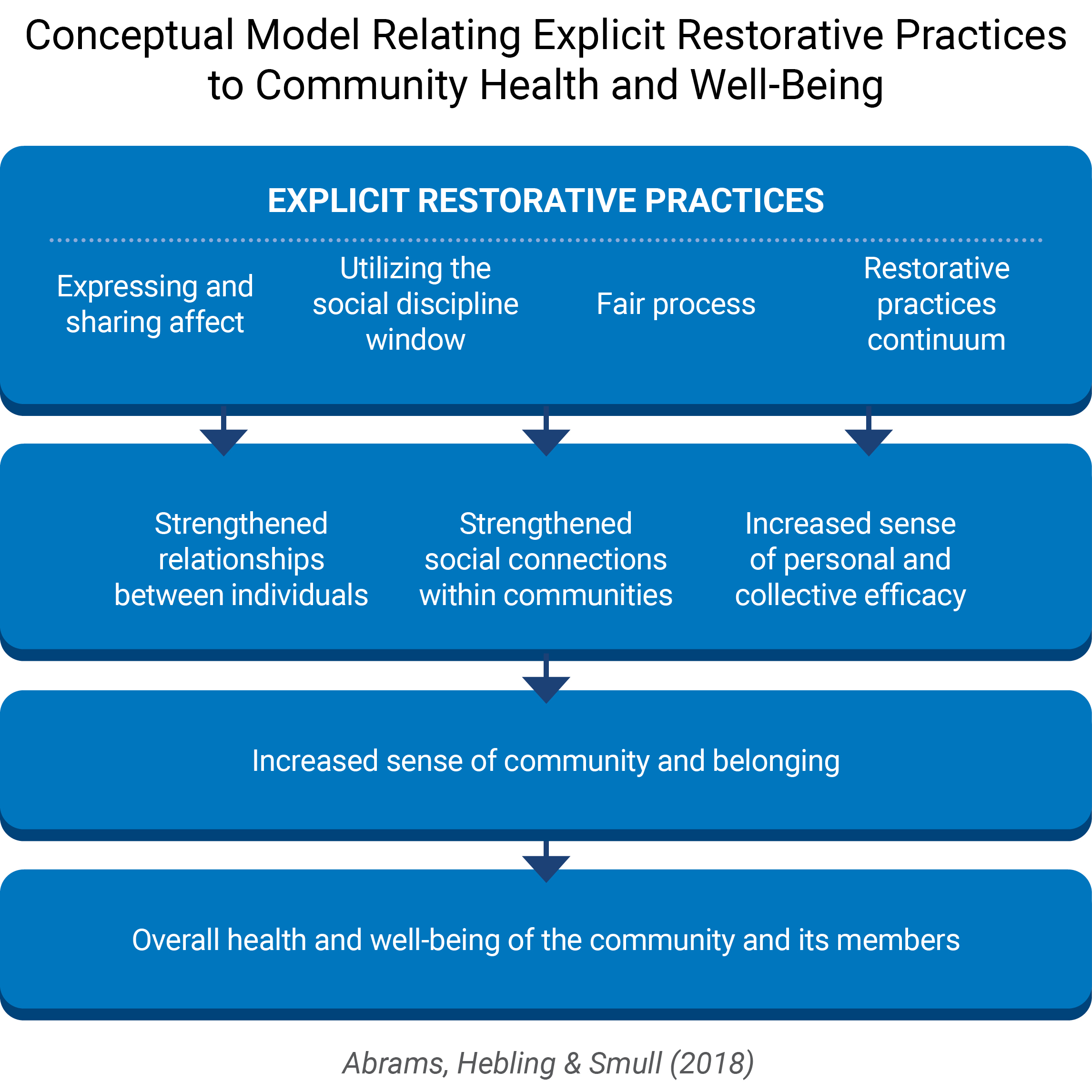 Figure 2

Restorative practices can help communities to flourish. The proactive aspects of restorative practices focus on building community before a problem arises, rather than responding after a problem has occurred. This is an important prevention approach ("upstream") to improve the social determinants in a community.
When used as a universal prevention strategy for everyone in the community — regardless of any specific risk factor that may or may not exist — restorative practices can help create the social conditions for people to be healthier and have greater well-being (figure 2).
The social-ecological model can be a useful guide to improving community health and well-being through restorative practices. This model describes how health is shaped by many interrelated and interdependent levels of influence, including individual characteristics and behaviors, interpersonal relationships, and the environment (organization, community and public policy) (McLeroy, Bibeau, Steckler & Glanz, 1988). The idea that people are influenced by their environment is consistent with the proactive aim of restorative practices — to build a strong community environment in which people can thrive.
This model provides a useful lens through which to see the factors that influence relational and prosocial behavior in the community. A combination of restorative practices efforts – working together across all levels of the social-ecological model – can provide a structure for individual and collaborative efforts to be successful and sustainable (figure 3).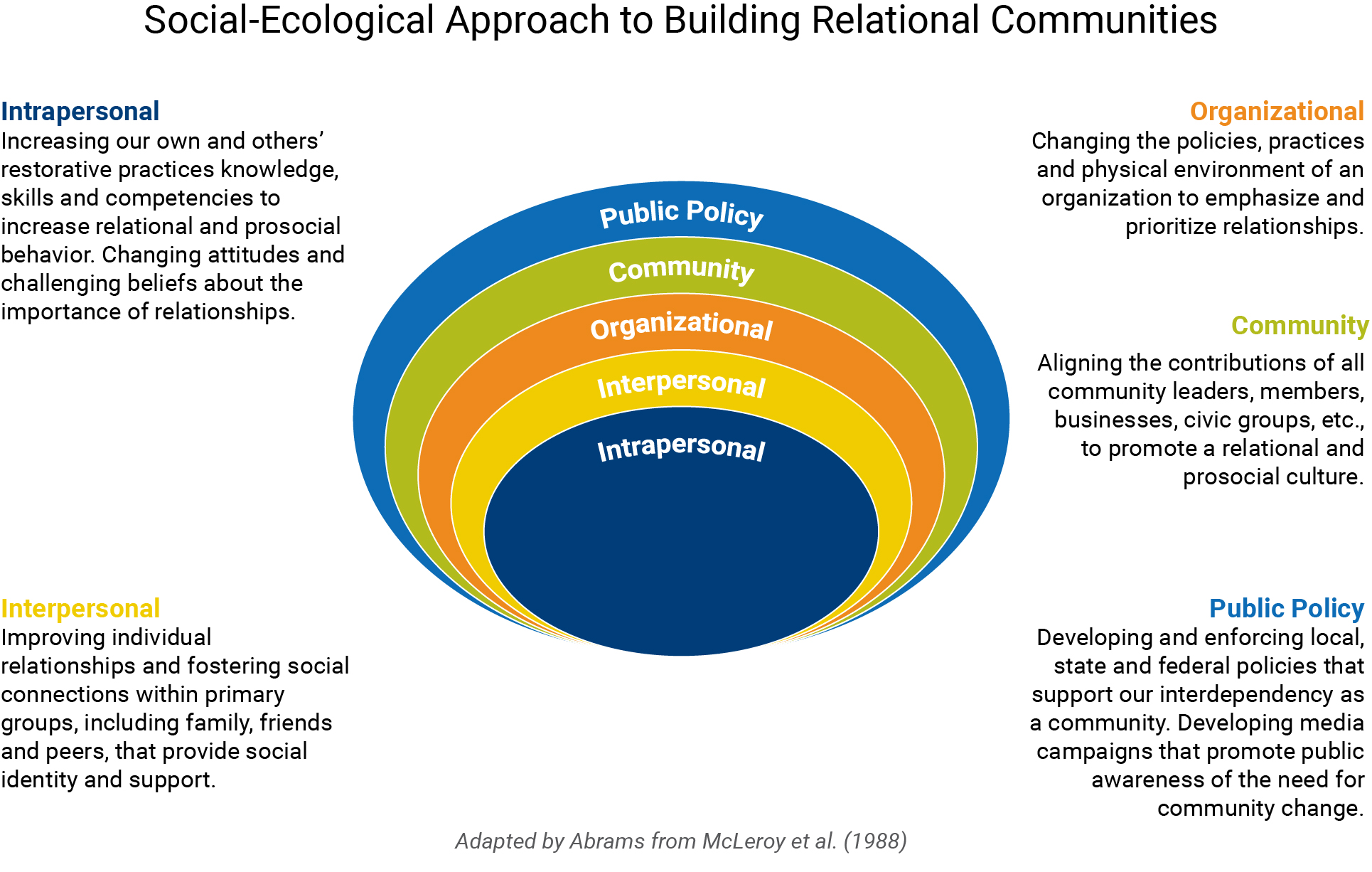 Figure 3
References
Abrams, G. B., Hebling, M. J. & Smull, E. (2018, October). Proactive restorative practices: Creating the conditions for individuals and communities to flourish. Paper presented at Strengthening the Spirit of Community, IIRP World Conference, Detroit, MI.
Goodman, R. A., Bunnell, R., & Posner, S. F. (2014). What is "community health"? Examining the meaning of an evolving field in public health. Preventive Medicine, 67, S58-S61.
McLeroy, K. R., Bibeau, D., Steckler, A., & Glanz, K. (1988). An ecological perspective on health promotion programs. Health Education & Behavior, 15(4), 351-377. https://doi.org/10.1177%2F109019818801500401
McMillan, D. W., & Chavis, D. M. (1986). Sense of community: A definition and theory. Journal of Community Psychology, 14(1), 6–23. https://doi.org/10.1002/1520-6629(198601)14:1%3C6::AID-JCOP2290140103%3E3.0.CO;2-I
Office for Disease Prevention and Health Promotion (2020, April 2). Social determinants of health. https://www.healthypeople.gov/2020/topics-objectives/topic/social-determinants-of-health