Library catalog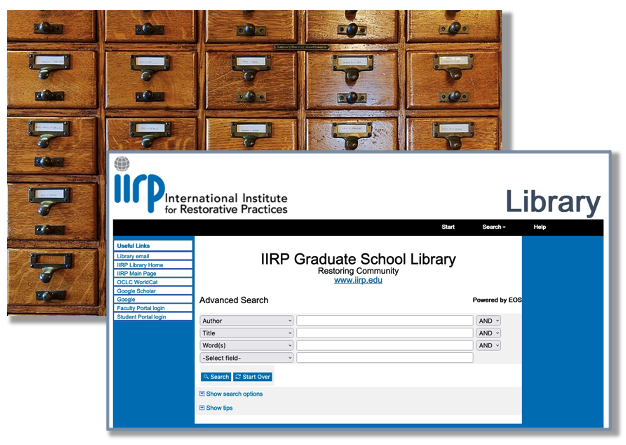 Search the catalog of the IIRP Graduate School in-house Library at our Bethlehem, Pennsylvania, campus.
The catalog contains bibliographic records of books, reports, dissertations, theses, conference proceedings, and audiovisual materials. The Library collection is organized according to the Library of Congress classification system.
Materials available online are indicated with links to external content sites. Catalog entries marked OCLC are linked to OCLC WorldCat, which helps you find libraries in your area that own those items. Search WorldCat by zip code, city or country.
Borrowing of printed library materials is restricted to Bethlehem-based IIRP faculty and staff.
E-books
Some materials (books, reports, government publications, etc.) are available online; they are indicated with [Electronic resource] in the title, as well as a Download icon. Library catalog records for these items contain URLs for download links.
To search for e-books and other digital content in the catalog, find Select field (beneath Author, Title and Word(s), scroll down and choose Location in the drop-down list (after Author, Title, Publisher, Year, etc.), select Electronic book, then click the blue Search button. Click on a desired title; once in its catalog record, click the download link or icon to access the content at its external host site.
Some digital books are available to borrow and read from the Internet Archive online public library with a free archive.org account. Most titles can be borrowed for up to two weeks; many older public domain (pre-1927) books are also free to download. A book can be borrowed by only one person at a time, so availability of individual titles may be limited, depending on reader demand. Adobe Digital Editions eReader (a free app) is required to download some titles.
Serial holdings (journals & magazines)
Online journals
Click a journal title to sign in via OpenAthens (what is this?) to browse and read. Full text content is available exclusively to IIRP faculty, students and staff.

indicates Open Access titles; no sign-in is required.
Print serials
Single copies of journal articles for individual use can be provided upon request. The use of photocopies and other reproductions of published material is governed by copyright laws of the United States (Title 17 U.S. Code).
This email address is being protected from spambots. You need JavaScript enabled to view it. for assistance.