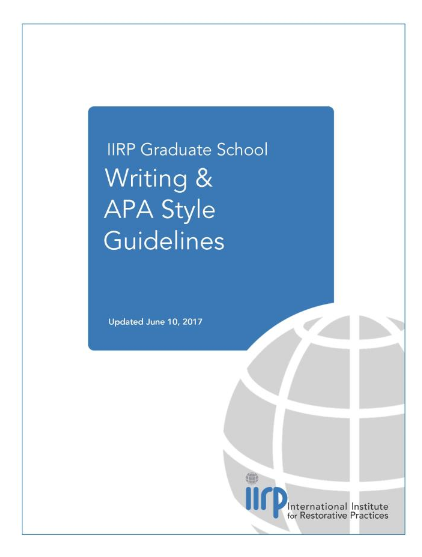 The IIRP Graduate School uses American Psychological Association (APA) writing style for presenting ideas and data, formatting papers, and citing sources in student assignments and scholarly writing. APA is the most commonly-used style guide for academic writing in the social sciences.
---
IIRP Graduate School Writing & APA Style Guidelines (PDF)
Guide for formatting research papers and commonly-used reference and citation types in APA style for IIRP coursework. Illustrated with examples of references from the literature of restorative practices. Includes file-naming guidelines for student assignments.
---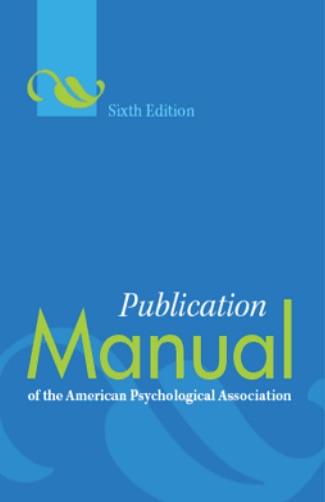 Publication Manual of the American Psychological Association, 6th edition
The definitive resource for APA writing and reference style; a must-have for all students and scholars in the social sciences. We highly recommend that you obtain this essential item from the bookseller of your choice.
• Print edition: American Psychological Association | Amazon | Barnes & Noble
• E-book edition: VitalSource & RedShelf (USA only) : Amazon Kindle version available at these international sites: Australia | Canada | Brazil | France | Germany | India | Japan | Mexico | Netherlands | United Kingdom
---
Additional tools
Purdue University OWL - APA Style Guide
Detailed instructions, with many examples. APA Style Workshop provides a general introduction for people unfamiliar with APA; Formatting & Style Guide covers setting up papers and reference/citation examples, plus more, in detail. Their YouTube video playlist also has short tutorials.
APA Style Blog - Practical advice from experts on APA writing and formatting. Covers a wide array of subjects, including unusual and esoteric questions not addressed elsewhere. Search by categories or individual topics; submit your own questions.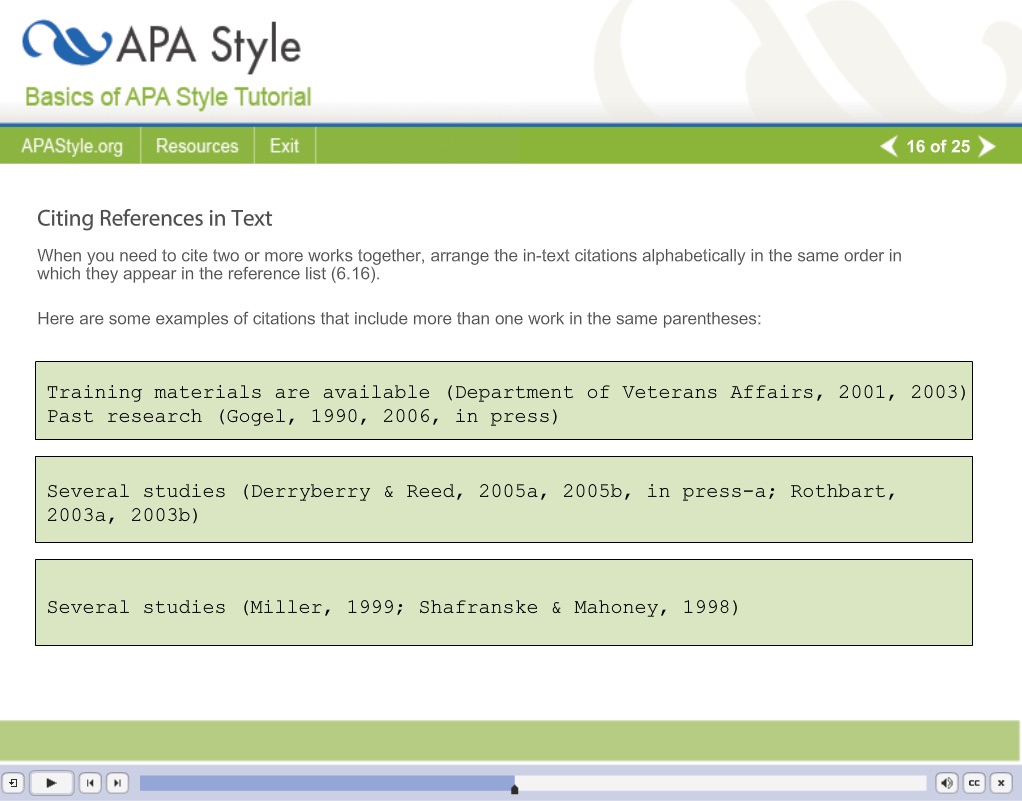 Watch the Basics of APA Style tutorial.
Basics of APA Style (online video tutorial - 23 minutes)
For writers who are new to APA. Covers formatting papers, citation and reference formats, using headings, and avoiding language bias in scholarly writing. (Note: Flash Player must be enabled in your browser.)
Learning APA Style
Free online learning tools & FAQs on writing and formatting.
Quick Answers - Formatting
"Top 10" list of common APA Help topics. Covers Running head; Margins; Heading levels; Lists; Tables; Figures; Table of contents; Title page; Serial comma; Quotations. Pulls answers and tips from the Publication Manual and the APA Style Blog.
APA Style Frequently-Asked Questions (FAQ)s
Covers general questions (including "Why APA Style?"), reference formatting for print and Internet sources, punctuation, grammar/writing style, and creating running heads.
APA Style Guide to Electronic References, 6th edition (e-book)
Companion to the APA Publication Manual (above); provides in-depth details on citing digital content, including e-books and online journals, audiovisual materials, websites, social media, technical material and much more. Sold by American Psychological Association (PDF edition) and Amazon (Kindle).
Social media
Stay up to date with APA Style on FaceBook, Google+ and Twitter.
Still have questions?
This email address is being protected from spambots. You need JavaScript enabled to view it. if you have additional questions on APA style.