IIRP President Ted Wachtel will be visiting the Netherlands in early November. He will be leading "An Inspirational Presentation and Dialog" on the subject of "Building a Worldwide Restorative Practices Learning Network" in cooperation with Eigen Kracht Centrale and Restorative Justice Nederland.
Rob van Pagée and Hedda van Lieshout will present the vision of the independent organization Eigen Kracht Centrale, which asserts that citizens are uniquely able to deal with their own situation, by getting together with others directly affected, to discuss what is happening and to make a restorative plan for a solution.
Gert Jan Slump and Anneke van Hoek from Stichting Restorative Justice Nederland will reflect on "when worlds meet" — the potential for mutual learning created by Restorative Justice — when a crime brings together criminal justice professionals with offenders, victims and community members in a setting other than the courts.
Two dates are offered: Tuesday, November 6, 2012, 1 - 3:30 pm & Saturday, November 10, 2012, 1:30 - 4:00 pm, both at Parnassos, Kruisstraat 201, 3581 GK Utrecht, tel: (030) 253 8448 (reception). A small fee is asked to defray costs – 25 € which includes coffee, tea and materials.
To Sign Up:
• Send an email by November 1, 2012 to This email address is being protected from spambots. You need JavaScript enabled to view it. with your name, contact details and which of the two dates you will attend.
• Transfer € 25 to ING Bank 9399584 Eigen Kracht Centrale o.v.v. Restorative Event 2012. Once your deposit has been processed, you will receive confirmation by e-mail.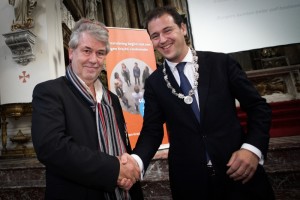 Rob van Pagée, left, receiving the Knight in the Order of Orange-Nassau from Deputy Mayor Lodewijk Asscher of Amsterdam
Contact person: May Rompas of Circle-in, 06 2016 0938, This email address is being protected from spambots. You need JavaScript enabled to view it.
---
In one other bit of news, Rob van Pagée has received a national honor in the Netherlands. On October 4th he was awarded the distinguished Knight in the Order of Orange-Nassau by Deputy Mayor Lodewijk Asscher of Amsterdam.
Writes Eric Wiersma in an email to Laura Mirsky: "Rob received two weeks ago a royal honor – from our queen, [who is] in our system the head of state – for his professional career and his commitment to Restorative Justice and his work for ... Eigen Kracht Centrale, aimed at empowering people to solve their problems within their personal network, instead of depending on professionals."