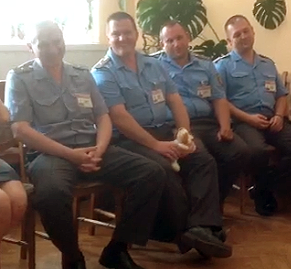 Police from Belarus during restorative circle trainingSimon Saxton, Residential and Alternative Provisions Manager, and Jacqui Raynor, Police Inspector, both for North Yorkshire, UK, and trained as IIRP UK trainers, recently visited the Gomel region of the Republic of Belarus, under the auspices of the Chernobyl Children's Project (UK), to deliver restorative practices training.
Trainees received an introduction to restorative practices and circles training during the five-day visit in May, 2013. Participants included police officers assigned to juvenile correction services, as well as teachers and psychologists working primarily in vocational schools. A model circle was filmed and shown on local television.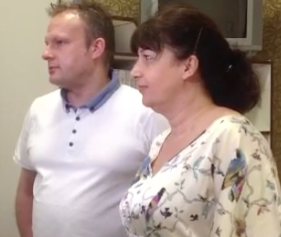 Simon Saxton and Jacqui Raynor from North Yorkshire during tv interview in Belarus about restorative practicesSaxton and Raynor plan to return to Belarus in October for 10 days, to follow up with those who were trained and to deliver further training. Despite having cultural differences in dealing with criminality, the trainings have been well-received. Saxton and Raynor have discovered a lot of enthusiasm to introduce new restorative approaches among training participants.
The project is ongoing. Trainings will continue in the short-term. The long-term vision is to train trainers in-country who can take over the work of expanding capacity.