The International Institute for Restorative Practices (IIRP) Graduate School is the world's first graduate school wholly devoted to restorative practices. Our faculty — all scholar/practitioners — are dedicated to helping individuals find new ways to empower people and transform communities.
This field, as well as our institution, is developing across national borders and professional disciplines, in order to positively influence human behavior and improve civil society.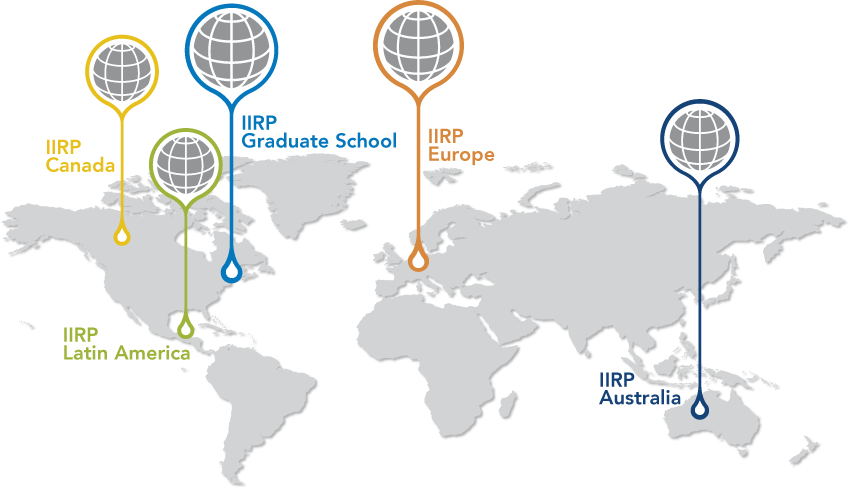 We are a small graduate school that makes a large impact
Our campus in Bethlehem, Pennsylvania, is the international and intellectual hub of our accredited Graduate School. It is where we demonstrate restorative ideas and practices within our model programs, and it is the center for our graduate students to expand the boundaries of the field.
We ensure that quality professional development is accessible, affordable and culturally appropriate with our international affiliates, IIRP Canada, IIRP Latin America, IIRP Europe and IIRP Australia. Every year, the IIRP provides professional development to thousands thousands of participants in the U.S. and around the world.

We practice what we teach
Our entire institution is guided by the premise that "people are happier, more cooperative, more productive and more likely to make positive changes when those in authority do things with them, rather than to them or for them."
As a community we "practice what we teach" and build institutional capacity, while nurturing internal social capital and strong relationships among trustees, faculty, administration and students. Our restorative ethos is embedded within governance structures, policies and decision-making processes, with defined reciprocal roles and responsibilities for trustees, faculty, administration and students.
History
The face of higher education is changing rapidly and dramatically around the world. The IIRP has designed its offerings and services to meet the needs of 21st century adult learners and professionals. All that the IIRP offers is driven by our mission, rooted in everyday professional practice and accessible from anywhere in the world through a wide range of flexible learning options.
We are dedicated to the study of restoring relationships, social discipline, emotional well-being and civic participation through participatory learning and decision making.
The establishment of the IIRP Graduate School was the culmination of decades of work in restorative practices by a number of pioneers around the world. Among these pioneers are the IIRP's founders, Ted and Susan Wachtel, who developed many of the theories at Buxmont Academy and the Community Service Foundation.
With roots in restorative justice, a way of looking at criminal justice that emphasizes repairing the harm done to people and relationships, restorative practices has the broader goal of proactively developing community, managing conflict, building relationships and increasing social capital.