IIRP News
Details

Written by

Laura Mirsky
By Laura Mirsky
Members of Parliament David Laws and Nick Clegg meet with Chard Police beat manager William Geddes; CICJP implementation group chair John Lacey; Avon and Somerset Police chair Henry Hobhouse; CICJP coordinator Valerie Keitch and Somerset County Councilor Jill Shortland. Photo courtesy of Chard & Ilminster News.
The people of the neighboring towns of Chard and Ilminster, in Somerset County, England, have taken justice in their community into their own hands. They established the Chard and Ilminster Community Justice Panel (CICJP) and are handling local cases themselves, in a restorative manner, with decidedly positive results.
What makes the CICJP different from other community justice boards is the restorative process. As in restorative conferences, as practiced by the IIRP, the CICJP brings victims, offenders and their supporters together face to face to deal with the consequences of an offense and decide how to repair the harm. Victims tell offenders how they have been affected by an offense, and offenders have a chance to take responsibility and make amends. Supporters express themselves, too.
Victims, offenders and their supporters are asked a series of restorative questions. Offender questions include "What happened?" and "Who do you think has been affected by your actions?" Victim questions include "How do you feel about what happened?" and "What has been the hardest thing for you?" At the end, all participants sign a conference agreement.
Details

Written by

Abbey J. Porter
By Abbey J. Porter
The emotional and psychological impact of crime can last far beyond the incident itself, in some cases affecting victims' lives for years. A groundbreaking study has shown, however, that restorative justice conferences can mitigate those effects and help victims heal and move forward more quickly.
Dr. Caroline M. AngelDr. Caroline M. Angel, a lecturer in criminology at the University of Pennsylvania in the United States, studied the impact of restorative conferencing on post-traumatic stress symptoms in victims of burglary and robbery. Her findings were clear: Conferences reduce the psychologically traumatic effects of crime.
"The most striking thing was that conferences reduced symptoms of post-traumatic stress disorder," she said. "What you have here is a one-time program that's effective in producing benefits for the majority of people."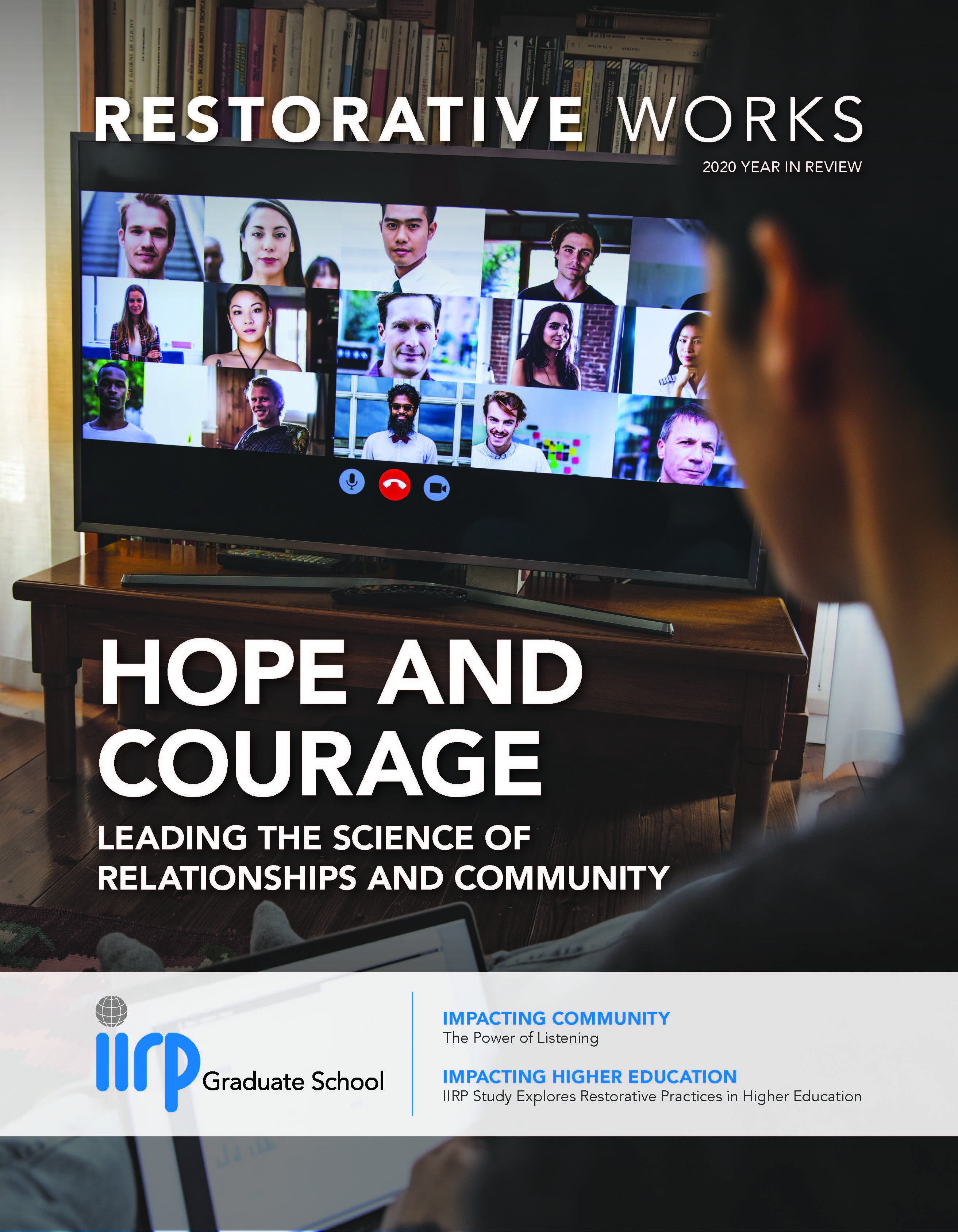 Restorative Works Year in Review 2020 (PDF)
All our donors are acknowledged annually in Restorative Works.