Community
For the city of Chicago, writes Robert Kohler, "The vision is a city interlaced with restorative justice hubs — community centers that bring hope and promise to troubled kids in a town where too many of them are dying."
Brattleboro Community Justice Center has a tradition of holding talking circles for the community during International Restorative Justice Week every year. This year, in light of a local heroin epidemic, the topic was the impact of drug abuse.
The Restorative Justice Project of the Midcoast (Maine), a partner in the RAND study examining restorative practices whole-school change implementation in 16 Maine Schools, celebrates 10 years of working with schools, youth and adults.
The Missouri Legislative Black Caucus issued a demand that a restorative justice plan be created for Ferguson, Missouri, in lieu of municipal fines for the non-violent protesters that have been arrested.
Schools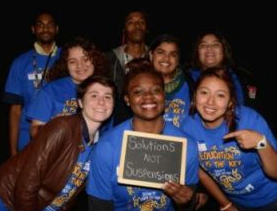 From Dignity in Schools Week of Action Against School Pushout!Studies show restorative practices in schools reduce suspensions in Santa Rosa, California (60-70%) (download full report), Merced, California (20-40%) and Columbia, Missouri. Plus, a report by Human Impact Partners for Merced, California schools predicts a positive impact for restorative practices implementation.
The Dignity in School Campaign reports on events during its 2014 National Week of Action Against School Pushout.
Central Falls, Rhode Island, schools receives $3.6 million in national funding to implement restorative practices in schools, "part of the Comprehensive School Safety Initiative, for which Congress appropriated $75 million to the National Institute of Justice."
Download an excellent qualitative research report that looks at the use of "Talking Circles for Adolescent Girls in an Urban High School: A Restorative Practices Program for Building Friendships and Developing Emotional Literacy Skills."
This 2-minutes news video about restorative practices implementation in Idaho District 25 Schools gives a concise and accurate presentation of restorative practices.
Reducing the Racial Discipline Gap
Important research that shows "The Promise of Restorative Practices to Transform Teacher-Student Relationships and Achieve Equity in School Discipline" by Dr. Anne Gregory et al. has now been published. Gregory will co-facilitate a free webinar December 16th from 1pm – 2:15pm titled "From Discipline to Dialogue: Engaging Student Voice."
Minneapolis (Minnesota) School District announces that every suspension of a minority student will be reviewed by the superintendent's leadership team.
Oakland, California, has made headway toward reducing the racial discipline gap using restorative practices, but still has more work to do.
Justice
As a contribution to this year's International Restorative Justice Week, the European Forum for Restorative Justice and Foresee Research Group (Hungary) prepared this 16-minute video, Restorative Justice: Inspiring the future of a just society for all.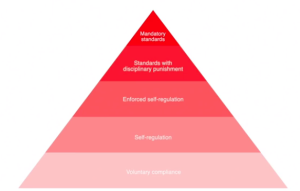 One in Four, an Irish organization that works with victims and perpetrators of sexual violence, reports that just 4 of 114 sex offenders undergoing treatment informed by restorative practices have reoffended.
In "The Limits of Responsive Regulation" (7 minutes), John Braithwaite discusses how people power can work within the regulatory pyramid to regulate business misconduct, crime and war.
Scientific American reviews the evidence and finds that "Overall, research from past 20 years has shown that restorative justice works."
Aljazeera America reports on Native American peacemaking circles taking hold in juvenile courts in Red Hook, Brooklyn, New York.
Watch a trailer for Facing Fear, an Oscar-nominated short documentary, which examines the outcomes of a chance meeting between a former neo-Nazi and the gay victim of a hate crime he participated in.
Students and Alumni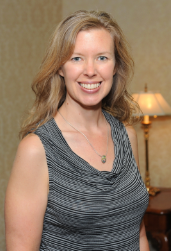 IIRP Alumni Julia Getty joins the Restorative Practices Foundation Board.IIRP alumna Julia Getty has joined the Restorative Practices Foundation Board of Directors. She earned a Master of Science in Restorative Practices in Education from the IIRP in 2012, and she teaches wellness at the Swain School in Allentown, Pennsylvania.
2014 IIRP graduate, Newark educator Tamam Moncur, created a video presentation to explain Restorative practices in schools: Changing tides.
Principal and current IIRP student Steve Young shares the restorative approach with the Algoma District School Board, in western Ontario, Canada.
---
Read past edition of the Restorative Practices Monthly News Roundup.