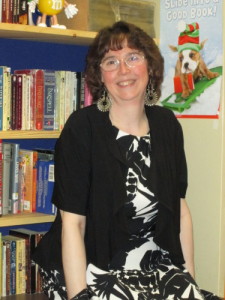 Language Arts teacher Heidi Fisher employs the Restorative Questions in circle discussions, encouraging students to relate to their reading assignments.
Heidi began implementing restorative practices in her classroom at Indian River Middle School, in Canaan, New Hampshire, the day she returned from an IIRP Basic Restorative Practices event, in Bethlehem, PA.
Her students had behaved poorly with the substitute teacher while she was away, so she decided to try the Restorative Questions to address the issue. "It was incredible just to listen to their responses to the questions," notes Heidi. "They all acknowledged that they should have behaved better, and they apologized to the substitute."
Restorative practices fostered their sense of responsibility for their own behavior and raised their awareness of how their actions affect others. She continued looking for new ways to employ them, explaining, "I wanted my students to think about things before problems occurred; to consider: 'If I do that – what's going to happen?' How are people going to feel?'"
As part of the eighth grade curriculum, Heidi created an activity for teaching the book, The Eleventh Plague, by Jeff Hirsch. First, she asked her students to collaborate on deciding a key situation involving the main character, Steven. Then, in a circle go around, they all responded to the Restorative Questions, speaking as if they were Steven: "What happened (during that situation)? What were you thinking about at the time?" They addressed all five questions.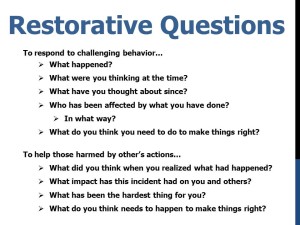 Heidi says she was "blown away" by the discussion's impact, remarking, "It really helped them focus on everything they do: to realize that they're responsible for the choices they make and have the ability to affect another human being. It was proactive, not reactive."
Heidi holds every class in a circle, explaining, "There are no sides to a circle. That's reassuring to the kids; they're not out on the edge. It gives them the courage to say things they wouldn't say otherwise. And if they notice somebody else is having a problem, they reach out. What an awesome way to start changing the world!"