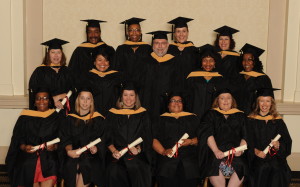 The IIRP Class of 2012Saturday June 23 was a beautiful day for the commencement ceremony of the fifth graduating class of the IIRP Graduate School, held in the Grand Ballroom of the Hotel Bethlehem in Bethlehem, Pennsylvania, USA.
Jeffrey Lyle Farr, Julia E. G. Getty, Angela Lorraine Hankins, Donald Lloyd Jackson, Stacy R. Phillips and Sharon Rose Jones Witbeck received Master of Science in Restorative Practices and Education.
Jacqueline Joyce Exum, Mary Jo Hebling, Robin C. Ide, Stephanie Mitchell, Yvonne Platts, Amarfi Ramirez-Acevedo, Michele Courtney Reinert, Eileen K. Richards, Alyssa Schmoyer and Josephine Torres-Boykins received the Master of Science in Restorative Practices and Youth Counseling.
IIRP president and founder Ted Wachtel welcomed friends and family, saying "This is more than a graduate institution, this is a worldwide movement, and the IIRP is one organization leading it. It's about restorative processes that include practical ways to improve human behavior and strengthen civil society. And it actually works, in schools, with delinquent kids, in workplaces..." He called on the new graduates to "Take what you've learned and help make the world a better place. He related a quote from Martin Luther King, Sr. (MLK Jr.'s father): "Throw down your buckets where you are, and make a change there."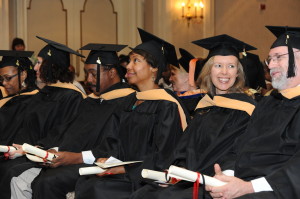 The graduates
Following the degree-conferral ceremony, several graduates took part in a ritual that has become a tradition at IIRP commencements: They demonstrated a "restorative talking circle."
Passing the microphone as a "talking piece," the graduates spoke one at a time, each of them sharing their thoughts on the topic: "What restorative practices means to me." Here is a small sample of their comments:Yvonne Platts, of Norristown, PA, who has worked in mental health clinics, homeless shelters and with youth groups, said, "Restorative practices has helped me separate the deed from the doer, listen to others, keep my mouth shut and help people find their own way."
Julia Getty, of Allentown, PA, wellness coordinator at the Swain School, said, "It's about relationships. That's really all there is."
IIRP President and Founder Ted Wachtel
Donald Jackson, of Philadelphia, PA, special education teacher at Strawberry Mansion High School said, "Restorative practices has given me the tools to enable my students to make it in the grownup world."
Jeffrey Farr, of Hagerstown, MD, English teacher at Antietam Academy for delinquent and disruptive youth, said, "Restorative practices has freed me from the tyranny of 'because I said so' and taught me that happiness is something we create together as we build relationships."
With that, IIRP President Ted Wachtel closed the proceedings of the fifth commencement of the world's first graduate school wholly dedicated to restorative practices.