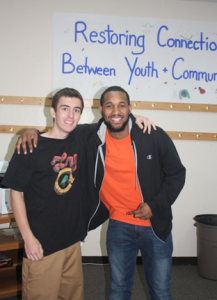 The restorative environment at Community Service Foundation and Buxmont Academy (CSF Buxmont) schools for at-risk youth enhances the effectiveness of the Aggression Replacement Training® cognitive-behavioral intervention program.
This is why the Aggression Replacement Training program is more effective with youth at CSF schools than with other Pennsylvania youth, theorizes CSF Buxmont Executive Director, Dr. Craig Adamson. "At CSF Buxmont schools, students are surrounded by a supportive treatment model that includes counseling and peer support, which creates many opportunities — all day long — to enrich what students are learning in the Aggression Replacement Training program," says Dr. Adamson.
Data were collected from 67 youth at CSF Buxmont schools who completed the Aggression Replacement Training program from January 2012 through April 2014. Outcomes data were compiled by the EPISCenter at Penn State University, from CSF Buxmont and other Pennsylvania Commission on Crime and Delinquency (PCCD)-funded Aggression Replacement Training sites across the state of Pennsylvania. The data were based on three questionnaires completed by youth before and after participating in the Aggression Replacement Training program, to determine changes in attitudes, beliefs and behaviors. The questionnaires were analyzed for reductions in aggression, covert aggression, overt aggression and cognitive distortions, as well as improvements in social skills.
CSF Buxmont has been implementing the Aggression Replacement Training program at four of its schools, through grants provided by the Pennsylvania Commission on Crime and Delinquency (PCCD), to help students learn and practice interpersonal skills, effectively manage emotions, improve communication and develop better decision-making skills.
CSF began implementing Aggression Replacement Training at its Sellersville and Feasterville schools in October 2011 and at its Bethlehem and Pottstown schools in October 2013. As of September 2014, 23 CSF staff members have been trained as Aggression Replacement Training facilitators, certified to deliver the Aggression Replacement Training program.
The 10-week, 30-hour Aggression Replacement Training® program consists of three components: SkillStreaming, Anger Control Training and Moral Reasoning Training. Starting with simple concepts and skills and building to a higher level each week, students explore external and internal triggers for their anger and identify their own anger situations, behavior and consequences. They perform exercises where they role play incidents (they are helped to stop before they re-experience real anger) and practice skills, including positive self-talk, anger reducers, exit strategies and healthy communication.
While students are learning how to better handle their previous anger experiences, they are simultaneously developing and practicing new skills to help them improve their relationships, from "Introducing Yourself" to "Dealing with Someone Else's Anger" to "Standing up for a Friend" to "Arranging Problems by Importance" and "Making a Decision" (McGinnis, 2012).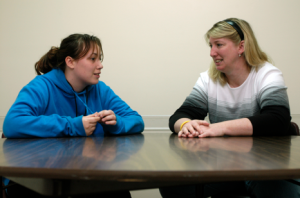 CSF Buxmont Assistant Director of Day Treatment, Pam Thompson, who oversees Aggression Replacement Training implementation at the schools, says that Aggression Replacement Training interfaces with what students and staff do at CSF Buxmont in many ways.
Aggression Replacement Training is enhanced in a restorative setting because it has natural applications that work with students to identify their own anger and help them make choices about their behavior, says Thompson. She adds, "Aggression Replacement Training is empowering – you work with students." This matches the fundamental premise of restorative practices, which says that "people are happier, more cooperative and productive, and more likely to make positive changes when those in authority do things with them, rather than to them or for them" (Wachtel, 2013).
The philosophy and some Aggression Replacement Training activities are "built into our program," explains Thompson. "We are always asking students to talk about who has been affected by their actions and to repair harm," just as in Aggression Replacement Training. "Kids are focused on improving their relationships and interactions. Aggression Replacement Training fits right in."
The skills and concepts students learn in Aggression Replacement Training are in turn addressed at CSF Buxmont. If a student is expressing anger in the course of a school day, says Thompson, a counselor — or a fellow student — might bring up something learned in Aggression Replacement Training: "This looks like one of your triggers." Or "Do you need to use one of your reducers?" There are always opportunities for students to talk to someone about an Aggression Replacement Training skill they have learned.
Sometimes raw, painful feelings come up in Aggression Replacement Training exercises that need to be dealt with in more depth later, in a group or a one-on-one session with a counselor. When this happens, the Aggression Replacement Training facilitator can ensure these feelings are addressed in another way at another time. "Aggression Replacement Training isn't process-oriented," says Thompson. On the other hand, "In a group, the idea is to discuss, elicit more feelings, give feedback. Aggression Replacement Training is about breaking things down and focusing on specific triggers and strategies."
CSF Buxmont staff and students are sharing Aggression Replacement Training concepts and language outside school with students' other support systems, such as family members and house parents of students in CSF's foster homes, says Thompson. "This reinforces what students are learning and lets their support systems understand that we're helping to empower these kids to take control of their lives, rather than letting their anger take control of them."
Thompson is a big fan of the Aggression Replacement Training program, saying, "I love that it's empowering: so powerful, yet simple. Kids develop skills and solutions, learning how to identify their triggers. They don't wait until they're acting out and then realize they're mad. It gives them actual techniques: how to get themselves into a mindset to deal with a situation rationally."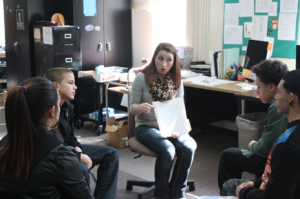 CSF Buxmont students enjoy the Aggression Replacement Training program, too, she says. They appreciate its specific focus and are proud of the tangible progress they can make. Chris Boretskii, Coordinator of the CSF Buxmont School in Pottstown, talked about a boy who mentioned Aggression Replacement Training in his graduation speech, in June 2014. "His father was incarcerated and his brother had been killed tragically," says Boretskii. "He was the first person in his family to graduate from high school." In his speech, the boy said, "Before I came to CSF I made a lot of bad choices. I couldn't control my attitude. Aggression Replacement Training taught me to control my anger. I realized that acting out of anger all the time gets you nowhere but in trouble."
CSF Buxmont is a model program of the International Institute for Restorative Practices (IIRP) Graduate School, which has conducted research projects demonstrating the effectiveness of restorative practices in improving student behavior and school climate and safety. (See the Research section at SaferSanerSchools.org.) The IIRP is now participating in further studies examining the effectiveness of restorative practices in improving school culture, student behavior, graduation rates, and racial disparities in discipline, in conjunction with NIH and Rand Corporation; the Johns Hopkins University, Diplomas Now and Atlantic Philanthropies; and Rutgers University.
References:
McGinnis, E. (2012). Skillstreaming the adolescent: A guide for teaching prosocial skills (3rd ed.). Champaign, IL: Research Press.
Wachtel, T. (2013). What is restorative practices? Retrieved from http://www.iirp.edu/what-is-restorative-practices.php