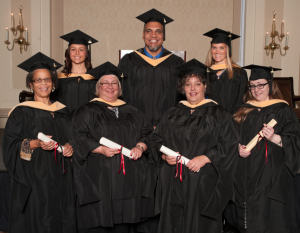 The International Institute for Restorative Practices' 2014 Graduating Class The IIRP Graduate School Class of 2014 is taking what they've learned out into the world and making it a better place.
At the Seventh Commencement of the International Institute for Restorative Practices Graduate School, on October 26, 2014, seven new recipients of the Master of Science in Restorative Practices were excited to share how their IIRP education has transformed their work with students, children and youth, and in their communities.
The graduates received their degrees from IIRP President and Founder Ted Wachtel, in a traditional ceremony. Then, instead of a commencement speaker, in what has become an IIRP Graduate School tradition, the graduates modeled an essential principle of restorative practices: giving everyone a voice. They all shared their experience of IIRP education and their passion for restorative practices, in a "talking circle."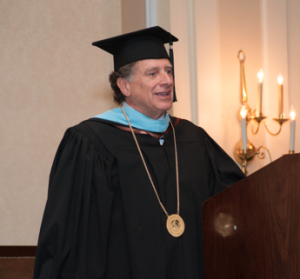 IIRP Founder and President Ted WachtelHere's some of what they shared:
Jennifer Muret-Bate, director of the Community Learning Center, in Winfield, KS, said, "I learned a lot about the importance of really listening to people and asking the right questions." Her school for students at high-risk of dropping out has greatly improved retention rates by implementing restorative practices.
Tamam Moncur, a retired educator who's active in her community in Newark, NJ, said, "This was the most fantastic educational opportunity I've had. I'm spreading restorative practices — in schools, with parents, at a halfway house for returning prisoners. I feel more confident now that I can make a difference with people in need."
Eileen Stone, director of prevention strategies and initiatives at the University of Connecticut, said, "I loved my IIRP experience. Classes are so applicable to real life. Faculty modeled restorative practices in every aspect, from courses to evaluations. I am now in higher education, and I wouldn't be if I hadn't come here. I believe that one of my charges now is to bring civility and community to campus climate."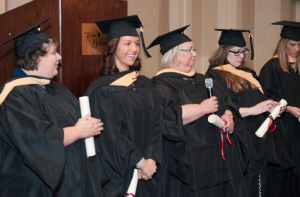 Eileen Stone speaks during the commencement talking circleFrancesca Scala is an alternative-to-suspension teacher at Allentown, PA's, Dieruff High School, which is implementing restorative practices. She said, "Restorative practices have had a significant impact on my students' lives, as well as my own. Our school is a family now, with students, faculty and staff — even cafeteria workers — all engaged in restorative practices and ready to see positive change."
Jessica Zimmerman, an English and leadership teacher in Maple Shade, NJ, said, "IIRP classes have changed the way I teach. I now know that people want to be heard, and as a restorative practitioner, I need to be listening. I will carry these skills with me as I teach, coach, form professional connections and strengthen personal relationships. Restorative practices was once what I was studying, but now it's what I've become."
Mary Velez, a kindergarten and first-grade English-as-a-second-language teacher in Bethlehem, PA, said, "I use restorative practices in my classes to make sure that everyone belongs, learns and has a sense of independence. I think we need restorative practices in our country, our culture and the world."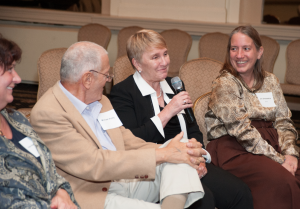 IIRP Associate Professor Dr. Frida Rundell shares during the Homecoming Circle.Steve Korr, an instructor at the IIRP, said, "I work with very challenging parents who bring with them a generational mistrust of school systems. You can see fear and mistrust when parents enter the school to deal with their children's behavior. But with restorative practices, we develop creative and beneficial solutions collaboratively, creating more positive and significantly better educational outcomes for our youth."
Graduate Peggy Lobb, a senior lecturer at Otterbein University in Westerville, OH, was not able to attend the ceremony.
For the first time this year, Commencement was held just prior to the IIRP World Conference, so international trustees and directors could join the graduates and their family and friends in celebrating their wonderful accomplishment: earning the Master of Science in Restorative Practices.
Homecoming also directly followed Commencement this year. Some new graduates and their families joined alumni, international trustees and directors, as well as faculty and staff, in a talking circle, to share their experiences and hopes for the future of restorative practices. Then everyone enjoyed refreshments and each other's company. And at the 17th IIRP World Conference over the next three days, some IIRP graduates and alumni were among the many who presented sessions about their work with restorative practices.