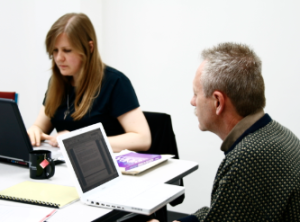 In keeping with the restorative ethos of including all stakeholders in decision-making, the IIRP Graduate School sent a survey to prospective students worldwide to learn the best ways to deliver its course content. The overwhelming response was that students wanted to learn restorative practices, but they wanted more online and low-residency options so they could continue to live and work at home while they studied. Nationally, too, the trend in higher education throughout across the U.S. is toward more online and hybrid education. As the IIRP has developed opportunities for students to study restorative practices at the graduate level wherever they happen to live, a world-wide network of restorative learners and practitioners is being fostered.
Fully online courses, including introductory courses like RP 506, Restorative Practices: The Promise and the Challenge, allow students to connect with others around the world on their own time schedule. IIRP students who have taken the course talk about the advantages of working with diverse participants from different fields and places as far afield as the Netherlands, Canada, the Caribbean, South Africa, the U.S., Australia and Peru.
Steven Young, a school principal in Unionville, Ontario, Canada, said, "It is the online discussion with practitioners from a variety of fields that really makes the course challenging and educational." Gabriela Mckellar, a public prosecutor from Cape Town, South Africa, said, "I gained a broader global perspective from the course content as to the application of restorative practices in different nations." Father Chris Riley, founder and director of a large youth serving agency in Australia, added, "The interaction with the instructor and other students was extremely positive. I felt we created a very supportive and positive group throughout the course."
Reflecting changes in society as a whole, higher education institutions are adapting and innovating, using the internet to create new possibilities to meet people's needs. One such innovation is hybrid education, which blends the best aspects of in-person classes with online education. Students want face-to-face relationships with instructors and fellow students, but they also appreciate the accessibility that online education offers. Hybrid learning lets students come together to build meaningful relationships but then sets them free to apply in their workplaces and communities what they have learned. While they're practicing, they continue to study, converse online and connect with classmates around the world.
Amy Fanter noted in "The Future of Instructional Models," that hybrid classes "encourage self-directed learning, time management, problem-solving, and critical-thinking skills in those who participate in the programs." She pointed out, "Students are required to do more work on their own – and this kind of 'active learning' results in better ... subject mastery (or subject knowledge)."
The benefits of hybrid and online education support the IIRP Graduate School's Institutional Learning Goals, "the core skills and knowledge all students will attain at the IIRP." The goals include Self-Directed Learning, Critical Thinking, Communication Skills and Information Literacy, which are fostered through this type of learning.
The IIRP course, Aggression Replacement Training®, is one of the hybrid options available to students in the IIRP Master of Science in Restorative Practices program or those pursuing a Graduate Certificate. The course begins with a 2-day stand-alone professional development experience where students in the fields of education, criminal justice, social services and youth counseling learn the Aggression Replacement Training method of reducing violence and youth aggression. Attendees can take this as a professional development experience only or choose to "delve deeper" by taking the online portion of the course for graduate credit.
The online portion provides background theory and rigorous discussion that are not required in the basic practical training. Maureen Calvo, a teacher in Bethlehem, Pennsylvania, who took the online portion after attending the 2-day Aggression Replacement Training event, said, "The readings and subsequent online posts and discussions were very helpful in solidifying what was taught in the in-class portion of the class. Delving into the theory behind the practice and having to take time to reflect led me to a whole other level of understanding!"
Story continues below...
---
In the following short video, IIRP Associate Professor Craig Adamson discusses what makes the IIRP Graduate School unique for the adult learner.
---
Post-graduate certificate programs are also on the rise nationally. Graduate certificates require fewer credits and can be tailored to suit student needs. According to a 2012 survey by the Council of Graduate Schools, the number of graduate certificates awarded in the U.S. increased an average of nearly 19 percent per year between 2005 and 2011.
The IIRP's Graduate Certificate is awarded to students who complete 12 credits of graduate study, or four classes. These include two required courses and two electives –online, hybrid or independent study – chosen to enhance knowledge in each student's specific field of work, interest and study.
Amy Elliot, a drama therapist in Durham, North Carolina, said, "The IIRP Graduate Certificate gives you an incredible framework and a solid foundation in restorative practices. Through intensive engagement, the faculty leads you to think for yourself, providing you with the flexibility to apply these practices in all kinds of creative ways."
Nathan Kafka, an assistant coordinator of student life, in Spring Valley, Colorado, completed a Certificate in Restorative Practices and is now applying those credits to a Master of Science. He recently attended the IIRP World Conference and then took additional online coursework for graduate credit. He said, "I really appreciate the innovative learning method. I thrive in this creative structure, which is giving me a chance to apply what I'm learning in the real world."
IIRP Lecturer Nicola Preston, who teaches courses from her home in the UK, observed that as a teacher, too, "It's exciting to be part of a global learning community." Jennifer Muret-Bate, a learning center director from Winfield, Kansas, who recently completed her Master in Science of Restorative Practices, said, "I believe my training from IIRP has had the single greatest impact on how I do my job and look at the world around me. It has helped me become a better person and a better teacher."
---
Learn more about the IIRP Graduate School.