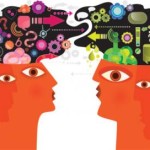 Illustration from Cooperative GrocerHere's a lovely article by Jennifer Crain for Cooperative Grocer, a trade publication for food cooperatives in North America, about a food market in Olympia Washington that operates on consensus and "decided to revamp its staff accountability" to "include the adoption of restorative practices."
Before the Olympia Food Co-op became a two-store operation with over 80 staff members, resolving internal conflicts was a direct but mostly informal process. If a conflict arose, such as an abrasive interaction, lateness or worker negligence, any staff member of the consensus-run collective could give direct feedback to the offending co-worker, either face-to-face or in an evaluation.

But when staff numbers climbed, they found that the informal process was no longer sufficient, and follow-through on consequences was a problem. Eventually, the co-op decided to revamp its staff accountability policies, including the adoption of restorative practices.

Restorative practices provide a framework for supporting positive staff relationships, including a system for addressing conflicts when they arise. They challenge standard responses to conflict, namely those that are punitive, neglectful, or permissive. Dr. Paul McCold, adjunct professor of restorative justice at Simon Fraser University and St. Martin's University, says a restorative model favors an inclusive approach that "actively encourages the involvement of the relational community."
The rest of the article goes on to discuss how restorative conferencing works and can work within the context of a grocery. According to the article, McCold and Beth Rodman – of the Thurston County Restorative Justice Initiative and formerly of IIRP – "suggest that authority figures in a workplace receive facilitator training and that the staff be engaged in continuing team-building efforts. Co-ops also may consider frequent check-ins, as a staff or in one-on-one meetings, and brush-up training for facilitators."
Read the full article here.