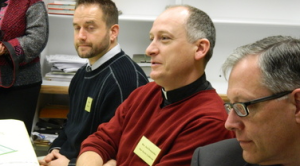 Representatives of school and church meet over breakfast in Susquehanna Township. Photo by M. Diane McCormick for PennLive.com
The Susquehanna Township (Pennsylvania) School District has not only been implementing restorative practices district-wide. They are also reaching out to the wider community to involve them in the changes happening in the school and expand their efforts. This article from the the Harrisburg Patriot News/PennLive.com describes how for the first time ever the district invited leaders of local churches to attend "a 'faith-based breakfast' at [the school's] administrative building." IIRP instructor Steve Korr made a presentation during the breakfast about restorative practices and the district's efforts.
"This is a nice way to network with the community, and the churches in the area are partners with us," [Superintendent Susan M.] Kegerise said. "We have to cultivate that. Their parishioners are our students."

The outreach to faith institutions dovetails with strengthened business partnerships, Kegerise said.

"Families are really involved in churches and schools, so to mesh the two makes a lot of sense," she said.

Pastor Richard Geib, of Tree of Life Lutheran Church, said that schools and churches are "similarly connected to the community."

"We're people who hear an awful lot about what's happening in our schools," he said. "It's good to get a chance to hear from school leaders about what's happening."

Featured speaker Steve Korr explained the district's recent implementation of restorative practices, a disciplinary approach stressing mutual respect. Community engagement is essential to restorative practices because it "shapes human behavior and how people interact with one another," said Korr, a program trainer and consultant.

"Having these churches here today is wonderful," he said.

Ben Kreps, pastoral intern with Living Hope Church, is familiar with the district because his congregation meets every Sunday at Susquehanna Township Middle School. He said he attended the breakfast to find ways to serve the school, "because we're already there."

"We try to be good tenants on Sunday, but I've often wondered is there even more we could do to serve the valuable work of teaching and helping kids," he said.
Read the full article here: Susquehanna Township School District seeks stronger ties to faith groups | PennLive.com.