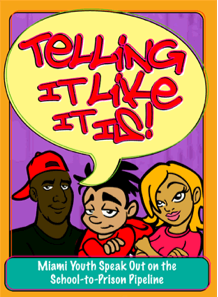 Power U Center for Social Change is a nonprofit, grassroots organization based in Miami, Florida that, according to its web site, is "FIGHTING for our land, our people, our community; ORGANIZING for justice in our schools and communities; SUPPORTING the struggle of social, environmental, and economic justice." A key program area involves empowering youth to advocate for restorative justice in schools. Power U writes:
In Miami, the majority of students arrested each year are Black, even though they only make up 27% of the student population. [An] unjustifiably broad and grossly unjust interpretation of zero tolerance policy on violence in schools has disrupted and interrupted education for so many students, and sent so many more on what is termed the "schoolhouse to jailhouse track"?, that approximately half of Miami's high school students fail to graduate.

Power U is training youth to organize fellow students around the issue of criminalization of students and its impact on education and learning in minority communities. ... While the organizing efforts advocate for the end of zero tolerance, Power U is also working with students to propose alternatives.
These alternative include restorative justice and restorative practices, and the campaign is gaining traction. In a recent letter to supporters, Power U writes:
POWER U YOUTH had another exciting victory! After years of struggle their tenacity is paying off… The youth have been campaigning that the School Board make recommended changes that would reduce suspensions and arrests which is critical to ensuring increased student safety, increased graduation rate, and address racist practices. Finally [in] 2012 we are excited to see positive changes.
The letter goes on to discuss "Changes in school system staff who have been attentive and taken action on behalf of the students." Power U introduced the Dignity in Schools Model Code of Conduct and says that the Miami-Dade school district, working with People Acting for Community Together and the NAACP, has adopted many of the changes suggested, including:
Each school working to develop a comprehensive plan to reduce suspensions
The development of partnerships with community-based organizations to support positive student behavior
No Outdoor suspensions of students for Level 1 of Level 2 violations without review by the Region Office
Students who have accrued 10 or more days of outdoor suspension cannot be suspended further without approval by the Region Office
According to Julia Daniel, executive director of Power U, the organization also partners with the NAACP and the Advancement Project to work with the school district to not only reduce zero tolerance measure but to also push for further changes, including use of restorative justice and restorative practices to repair harm and build community. Currently a pilot is seriously being considered for several schools in Miami-Dade to implement IIRP's 2-year whole school change program. The group hopes to keep up the pressure so measures like these will be expanded throughout the district.
Here is a link to a comic book (cover pictured above) produced by Power U and the Advancement Project, which uses stories from students in Miami-Dade, along with arguments and statistics, to make the case for moving away from zero tolerance policies: PDF Download of Telling It Like It Is.