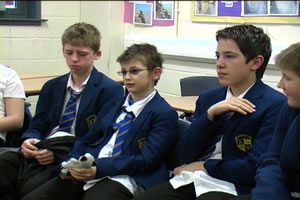 Circle discussion at Endeavor High SchoolAs Hull Centre for Restorative Practice in the UK just completed its Restorative Practice Conference, I'll offer a look back at this eForum story by Laura Mirsky from two years ago reporting on the city's progress toward its goal of becoming the world's first restorative city.
Hull, UK, led by the Hull Centre for Restorative Practices (HCRP) and the International Institute for Restorative Practices (IIRP), is endeavoring to become a "restorative city." The goal is for everyone who works with children and youth in Hull, one of England's most economically and socially deprived cities, to employ restorative practices.

Nigel Richardson, Hull's director of Children and Young People's Services, is leading the restorative initiative. Hull- — population 250,000, with 57,000 children — had a thriving fishing industry that disappeared several generations ago, and the city failed to regenerate itself economically, said Richardson, resulting in "low aspirations and self-esteem, and a high proportion of people living below the poverty line." Hull invested heavily to rebuild housing, the city center and secondary schools. But, said Richardson, "There's no point in physical regeneration without social regeneration." His strategy is to "invest disproportionately in children and young people now," with restorative practices (RP) at the core.