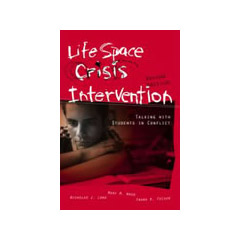 During the summer term, IIRP is offering two new courses in a fully online format, "Restorative Justice in Communities" and "Restorative Practices in Life Space Crisis Intervention." Both classes are 600 level classes, however they only require Basic Restorative Practices (RP 500) as a prerequisite.
Assistant professor Dr. Craig Adamson will be teaching RP 622, Restorative Justice in Communities. Craig says that this course looks into what's happening at the local level regarding restorative justice and restorative practices.
The textbook for this course is Dan Van Ness and Karen Heetdersk Stong's Restoring Justice, Fourth Edition: An Introduction to Restorative Justice, a broad overview of the theory and practice of restorative justice. Students also examine the most current research to get a sense of how restorative justice is developing around the world and the current state of practice.
Craig said he's looking for ways to be innovative with how he presents material online to make it engaging for students learning at a distance. Student discussion will at times revolve around responses to a variety of video vignettes, one showing a crazy community situation that might have been dealt with restoratively, and another by a policeman who employs restorative justice in his policing, for instance. Finally, students will do a project in their local area to investigate what restorative justice is actually being done and develop their own restorative justice program. This provides a great chance for students to interact around what is happening in their own communities in diverse geographical locations.
Associate professor Dr. Frida Rundell will be teaching RP 625, Restorative Practices in Life Space Crisis Intervention, which she is offering for the first time as a fully online course. Frida said life space crisis intervention is a great process for counselors, therapists, teachers, parents and anyone else who works with children.
"We will be looking at specific procedures to go through with young people presenting with behavior problems," said Frida, "so that within 10 or 20 minutes you can gain some insight into their issues. More generally, this gives people working with young people an awareness of what to do and what to look for."
Frida said there are six patterns of behavior that young people – and even adults, actually – tend to exhibit tend to present unconsciously that can indicate problems. For instance, one pattern involves a person who seems withdrawn, but who may later exhibit a sudden outburst. By recognizing this, you can do certain things to address the behavior pattern and deal with the problems that would create an outburst before it happens.
During the course, Frida said she constantly refers to the "Compass of Shame," a basic restorative concept developed by Dr. Donald Nathanson, to identify how individuals may respond differently to the common experience of shame.
"This course involves a lot of roleplays," said Frida. For the online course she arranged for youth from IIRP's model programs to be videotaped demonstrating many of the situations and concepts. Students in the course will watch and discuss the videos. But then for homework they must find a partner from among their friends and family to help them do the roleplays themselves at home. They will then discuss what they learned with other students and in the papers they write.
Frida said, "This process will help people recognize what the actual issue is and how that can be translated into the compass of shame. By understanding the unconscious behaviors people are doing, they will gain an awareness of steps they need to take to create harmony or a workable situation."
Both classes begin June 27, 2013 and run through August 22.