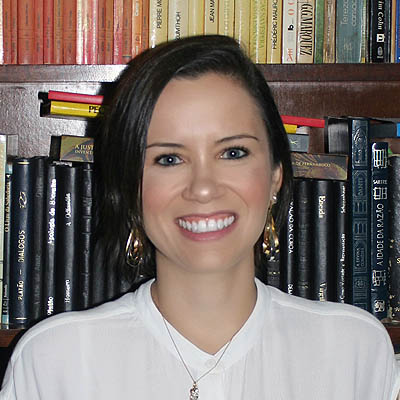 The IIRP Graduate School is proud to announce the creation of a Thesis Option for students and alumni of our Master of Science in Restorative Practices. The thesis option provides an opportunity to conduct and publish research in the restorative practices field.
To help facilitate the program, IIRP Assistant Professor Fernanda Fonseca-Rosenblatt, Ph.D., has been named a faculty member and will serve as Faculty Advisor for students choosing the thesis option.
"For the past three years I have been an adjunct professor at the IIRP," says Dr. Rosenblatt. "We have so many great students who are not just interested in studying and research but who are working in the field every day. With the thesis option, we are giving them a platform where they can show the world what they are doing and actually contribute to the field, not just theoretically but in practice."
Dr. Rosenblatt completed her doctorate at Oxford University and is Professor of Law at the Catholic University of Pernambuco - UNICAP (Brazil). She has researched restorative justice community processes in the U.K. and the potential for restorative processes in domestic violence cases in Brazil.
Dr. Rosenblatt has supervised students conducting research for many years, but she says this program feels different. "The process of developing the thesis option at the IIRP has been a refreshing experience," she says. "I have found more of a team feeling than I ever experienced elsewhere."
The sense of collaboration – the "with ethos," as Dr. Rosenblatt dubbed it – will be built into the student experience. "Each step of the thesis will be meaningful!" she concludes.
The thesis option has two prerequisite courses (first offered in Fall 2020 and Spring 2021, respectively) to teach research skills in design and analysis. After students complete all other coursework for the Master of Science degree, they may with approval enroll in the Thesis Seminar, which takes about one year from the initial design phase and research through writing and defense.
IIRP Provost Craig W. Adamson, Ph.D., adds, "What I find most exciting is the opportunity for our students to advance the field of restorative practices through research and scholarship. Each thesis will be publishable and made readily available to scholars and practitioners throughout our global network."
For the first time alumni are eligible to return to take courses and complete a thesis, as well.
"Alumni get the opportunity to expand on the work they did in their classes," concludes Dr. Adamson. "There's been some incredible work done by students. It's really about an opportunity to continue their learning and push the field of restorative practices by conducting original research."
Learn more about pursuing the IIRP's graduate programs and Thesis Option.