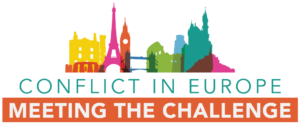 As restorative practices gains a foothold in the fields of justice, education, social work and organizational management, practitioners and theorists seek to widen the frame to address larger societal issues, as well.
To this end, the IIRP Europe Conference, "Conflict in Europe: Meeting the Challenge," (9-10 May 2017) will address significant issues manifesting in the current world climate, including radicalization, immigration, the disruptive impact of political movements, and sexual abuse and exploitation.
"A lot of things that were somewhat fixed in our society are becoming more fluid," says IIRP President John Bailie. "For instance, globalization has allowed the flow of products, ideas and people; borders have become less insular. Not surprisingly, societies across the globe are struggling to adapt. How do we move into a future defined by this fluidity and change, while retaining the stabilizing forces provided by local culture, community, social connectedness and strong relationships? How do communities maximize the opportunities these forces present, while maintaining control over the decisions that most impact their lives and minimizing extremism?"
"With our recent conferences," continues Bailie, "we've been working hard to bring in presenters, thinkers, practitioners and researchers who are doing work that we see as capable of expanding the restorative paradigm to address such issues, even though some of these people may not have had prior contact with the field of restorative practices."
Yousiff Meah, chief director of RecoRa Institute (Recognizing and Responding to Radicalism), for instance, works directly in communities with young people and adults to address radicalization. The organization is committed to "finding, motivating and mentoring activists to tackle inequality, violence and injustice within their neighbourhoods, with self-help replacing state funding as a preferred vehicle for change." RecoRa makes a long-term commitment to the communities it works with. It gets to know people in those communities and uses the relationships that are built to draw people away from negative subcultures. Currently, RecoRa works in the UK and is planning to expand to other European countries.
Restorative scholar Theo Gavrielides, Ph.D., the founder and director of the IARS International Institute and the founder and co-director of the Restorative Justice for All Institute (RJ4All), will address radicalization from a theoretical lens. His presentation, "The Terrorist Within and Restorative Justice," will ask participants to take a hard look at themselves. Explains Dr. Gavrielides in his session description, "I claim that we are the real architects of the social fabric that generates the extremist ideologies, which then gradually corrupt universal values such as tolerance and the respect of life, dignity and brotherhood."
Featured presenter Hedda van Lieshout is director of Eigen Kracht, which has conducted more than 11,000 Family Group Conferences (FGCs) in the Netherlands. She believes this restorative process, which engages families and their communities of support to solve problems, can also help address issues like radicalization and human trafficking.
Other presenters will look at ways to heal divides between violent political organizations and victims. Jo Berry, whose father was an MP (Member of Parliament) killed in an IRA (Irish Republican Army) bombing, has since reconciled with the man who planted the bomb. She will discuss her journey of healing, which included founding the charity, Building Bridges for Peace.
In another presentation, Austin Stack, whose father was also murdered by the IRA, begins with the premise that "Successful restorative justice resolution of a conflict has always placed the community and victim at the heart of the process and given them ownership."
One in Four, IIRP's local partner in Dublin for this conference, employs restorative practices in its work with victims of sexual abuse and trauma. The organization also uses the practices in the workplace to improve and build relationships among staff.
The call for presenters for the IIRP Europe Dublin conference is now open. Individuals and organizations working in the field of restorative practices and related areas are invited to bring their knowledge, expertise and idealism. Conferences are only as good as the participants who make them!
See the full list of featured presenters. Stay tuned for a series of articles highlighting the work of these and other featured conference presenters.