Anne Martin, director of restorative practices for Shalem Mental Health Network in Ontario, Canada, recently reviewed Margaret Murray's new mystery, Forging Justice.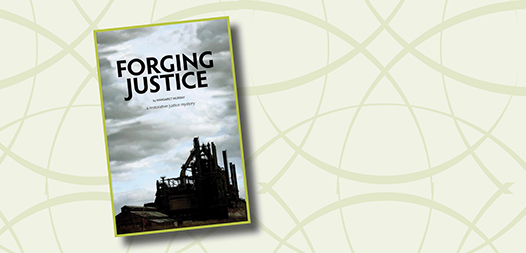 Police Detective Claire Cassidy, the protagonist of Margaret Murray's recently published novel Forging Justice: A Restorative Justice Mystery, is ready to quit her job. When it appears that Pee Wee Lebovitch has reoffended, this time killing an elderly woman, and three teenage girls have brutally attacked a storeowner leaving him in a coma, Claire has had it. She feels she cannot help keep the city safe. Her twelve years on the police force in Bethlehem, Pennsylvania feel like a waste of time. Is it time to turn in her badge?
While investigating the attack on the storeowner, Claire meets Democracy High School's vice-principal Daniel Pierce. "Adolescence is a special kind of hell," Claire thinks as she drives up to the school. "And high schools are surely one of its torture chambers."
Claire is unimpressed with Pierce's approach to kids, discipline and life in general. Skeptical of his use of restorative practice — it all seems too soft and lenient, a lot of talking and sitting in circles — Claire reluctantly plays along with him. Pierce can be useful to help find her suspects.
In the end Claire's tune changes. She begins to get what restorative practice is all about. It's good for the kids, the school, the community, and for her.
Through skillful plot and character development, Murray captures the way personal transformation that can happen by finding an alternative to the "condemn, alienate and punish" model.
Murray, the founding librarian of the International Institute for Restorative Practice (IIRP), has lived in Bethlehem for over nine years. She gets that forging healthy relationships with respect and accountability is critical; she gets that not giving up on kids is what really matters. She gets that relationships are forged through conversations. Conversations that begin with "What happened?" Rather than "Why?" Conversations untainted by assumptions but grounded in respect for the kids, to hear them out. Conversations that help the kids feel valued. Conversations that let the kids know what's expected of them, and that support is there to meet those expectations. Conversations that keep the kids connected, and in school.
I was recently in Bethlehem for the IIRP's 16th Annual Conference. Busy with plenary sessions, workshops and meeting fellow restorative practice practitioners from around the world, I didn't find time to seek out some of the haunts Police Detective Claire may have frequented. But I did hear teachers from two of Bethlehem's secondary schools, Freedom and Liberty, talk about introducing Restorative Practice to their communities. New conversations are happening. Kids are thriving, coming to school and spending the day there. (I remember the days when I would drop off my son at school, watch him walk in the front door and later receive a phone call informing me that he had not been at school all day!)
Bethlehem was once the second largest steel producer in the US after Pittsburgh. Murray's book is about forging a different kind of steel. Rather than carbon and iron, other raw materials merge to create something new — the creation of healthy relationships, the heart and soul of human community.
Just as the city of Bethlehem has had to find new ways forward, with the abandoned steel mill a silent witness to former times, students of a couple of Bethlehem's schools are finding new ways forward. In a community facing many challenges, forging strong relationships will be essential to develop a healthy, creative and dynamic environment for a still undetermined future.
Interested in reading Forging Justice? Check out the goods at http://store.iirp.edu/forging-justice/.
---
See video of Anne Martin speaking recently at IIRP's 16th World Conference during the "Restorative Practices in Faith Communities" plenary panel.
This article originally appeared at Shalem Mental Health Network's blog.