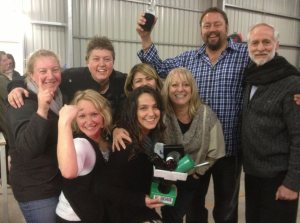 Re-Engage Youth Services, a social services agency based in Adelaide, South Australia, placed 13th on Australia's Business Review Weekly Best Places to Work List, thanks to its restorative approach with staff. Through professional development work with the IIRP, Re-Engage is employing a restorative framework, both to engage at-risk youth and to inform workplace culture.
"We believe in order to have a positive impact in the community we must first have a positive and supportive workplace culture," explains Re-Engage Youth Services Manager Kerrie Sellen. "To have this put to the test by an independent, rigorous study and be recognized as one of the best places to work out of hundreds of organizations is extremely encouraging."
Sellen believes that restorative leadership provides a common language and a structure for employees to talk about their practice and be more intentional about it.
One of her managers was struggling with the organization's growth in a way that affected her work. So Sellen and the manager delved together into the woman's four-year journey with the agency, focusing both on her prior development and on ways she could grow.
"It only took an hour, but it completely shifted her sense of self and who she is in the organization," says Sellen.
"Whether with youth, families or other staff," comments IIRP Lecturer Elizabeth Smull, who recently visited Re-Engage's South Australia offices, "everyone at Re-Engage really listens to each person's story as a way to understand their feelings and goals."
Consequently, Re-Engage has become a highly desirable place to work. Explains Smull, "Re-Engage doesn't have to advertise for staff anymore; people come to them. They can really handpick the best of the best because of their reputation."
In most workplaces, explains team leader Grace Moncrieff, supervisors focus on behavior and whether someone is following rules and procedures. Instead, she asks her staff, "What do you need to feel good about coming to work? What do we need to do to support you?"
"What's different here is the focus on relationships," concludes Moncrieff. "When people feel connected, they feel good about doing really difficult work."