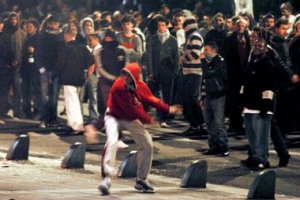 from dash24.comEveryone loves a good story, and I'm no exception – especially a good anecdote about an instance of restorative justice or some other more informal restorative interaction. These anecdotes, more than anything, can often cut through a person's doubt and questions about how RJ works.
So here's a story from the UK's 24dash.com by Julien Tremblin, dated November 17, 2011 but posted today on twitter by Theo Gavrielides:
A manager whose store was attacked during the August riots has met with a young offender convicted of taking part in the disorder.

Roy, the manager of Brixton's KFC, explained that meeting one of the young people involved that night has had a positive effect on both of them.

...

By the end of the encounter, the young person made a heartfelt apology. Roy even offered to mentor him with further one-on-one chats. He invited the teenager to pop into KFC Brixton anytime which the young person thanked him for and accepted.

...

Roy said: "I was willing to speak to the young man to tell him how the attack on KFC Brixton made me and my staff feel. Judging by his reaction a lot of good has come from this - for both of us."

"As the programme progressed I found myself becoming more and more proud of the young person for facing up to his actions. Toward the end he apologised and said he had been foolish and I could tell he was being genuine. We both got a lot out of meeting with one another and we have agreed to meet up again - possibly at KFC Brixton for another chat.

"What happened that night in Brixton was really unpleasant - the team were frightened and one of my colleagues was injured. The store was also damaged and tills taken. But meeting one of the young people involved that night has had a positive effect on us all. It's given him a better understanding of the stresses that were caused to victims and the implications."

The young person, who is studying performing arts, has agreed to write some lyrics or write a play about his involvement in the public disturbances. He has also agreed to share his experience of the restorative justice process with friends and signed a 'Moral Contract', in which he has pledged to see through his 'reparation activities'.
Read the full piece, "Young rioter apologises in face-to-face meeting with victim," here.