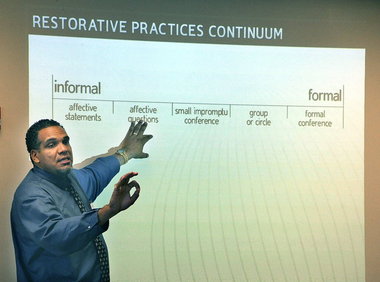 Steve Korr, IIRP trainer and consultant, training staff and teachers at Bethlehem Area School District (from the Express-Times, photo by Lisa Massey)
Bethlehem Area School District, which serves the city in which IIRP graduate school is based in Pennsylvania, has begun implementing the Safer Saner Schools 2-year whole school change program.
Express-Times reporter Lisa Massey has this story about the initial trainings. Some excerpts:
High school teachers, bus drivers, secretaries, administrators and other support staff converged on Freedom High School last week for an intense day of training in the concept.

"It is a very positive way to begin the school year," Liberty High School Spanish teacher Sandra Soto said during a training break.

Trainer Steve Korr told participants he's never seen such active administrative support, which is key to success with the SaferSanerSchools model. Schools using the program see an up to 80 percent decrease in disruptive behavior, and teacher attendance rises, he said.

Students are hungry for connections and truly want to do the right thing, they just often don't feel safe speaking up, he said.

"They want to say, 'Why are you doing this?'" Korr said. People change their behavior based on the bonds they form with each other, Korr said. By giving students a stake in their school community, they start to feel safer and in turn self-police. And when they do get in trouble, they're more likely to admit they're wrong and they're challenged to fix it, he said.

...

For Soto, the Spanish teacher, it made her more conscious of what she's already doing, gave practices a name and showed staff how they can improve.

...

Liberty High School environmental science teacher Ted Schaffer called it the best training he's had in his 19 years in the district. He already uses many of the ideas in class, he said, but the training gave him a better understanding of why students respond in certain ways and new ways to motivate them.
Bethlehem Area School District Superintendent Joe Roy was principal at Palisades High School in the late 1990s when IIRP first began working with schools to implement their knowledge gained by working successfuly with at-risk youth in the Community Service Foundation / Buxmont Academy programs. The article points out that for Roy, the ability to implement whole change is a "dream come true." (Roy was also a presenter at IIRP's first Summer Symposium: Turning the Tide last month.)