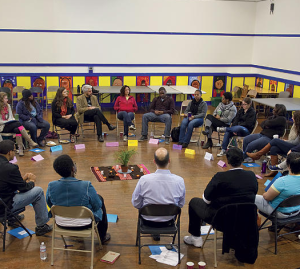 Photo by Ann Hermes at Christian Science MonitorStacy Teicher Khadaroo has an article in this month's Christian Science Monitor titled "Restorative justice: One high school's path to reducing suspensions by half." As so many articles do, this one begins with a story. I particularly like the way Eric Butler, the school's restorative justice coordinator, apologizes to the student who thinks she is about to get in trouble!
In the open-air corridor just outside his classroom, Eric Butler could hear snatches of escalating conflict: two girls talking trash about Mercedes Morgan – calling her the B-word and, even worse, a liar.

He saw Mercedes standing apart, pretending not to hear. He called the senior into his room. She was reluctant, resisting his first attempt to find out what was going on. So he started over and introduced himself, made her laugh, asked about her life. He didn't dress or talk like a typical teacher, and he lived nearby in the 'hood.

Here's what really got her curious: He apologized. He told her what he always tells students when he first introduces himself as the restorative justice coordinator at Ralph J. Bunche Academy: "A lot of adults have been promising you things and not following through, and I'm sorry for that. It won't happen with me. I don't blame. I don't punish."

His role, he explained, is to help people resolve problems and repair harm.

Mercedes finally opened up, telling him her friend was accusing her of stealing shoes from her house. It took another half-hour before she trusted him enough to admit it was true – and that she'd been afraid of what might happen if she "punked out" and didn't fight. The 18-year-old had been fighting with girls since elementary school, as if she didn't know any other way.

All three girls agreed to attend a "circle," an eye-to-eye talk in the folding chairs in "Eric's room" that are always set up in the round. The anger was palpable at first, but Mercedes apologized – and explained that she'd stolen the shoes to sell them so she could help her mom pay for a drug test. If her mom could prove to the court that she was clean, she might be able to get Mercedes's younger siblings returned to her from protective custody. When the other girls saw Mercedes crying, they empathized and gave her a hug. They didn't ask her to replace what she'd stolen, but they wanted to know that, going forward, she would be trustworthy.
Read the full story here.
A series of wonderful photos by Ann Hermes, staff photographer for Christian Science Monitor, can be viewed here.