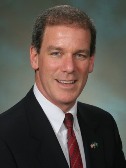 Bill sponsor, Roger GoodmanOn March 30, 2012 Washington State Governor Chris Gregoire signed into law legislation that makes restorative justice available to youth offenders. The bill, co-sponsored by state Reps. Roger Goodman and Ruth Kagi passed unanimously in both the house and the senate.
The law builds upon an existing mechanism in Washington state which allows a "diversion unit" – a probation counselor or community accountability board – to arrive at a diversion agreement with a young offender in lieu of a court hearing and sentence. Formerly this included, according to the law, things like paying restitution, performing community service and attending counseling. The new law now adds restorative justice to the menu of options the diversion unit may recommend.
The law also includes a definition of restorative practices:
"Restorative justice" means practices, policies, and programs informed by and sensitive to the needs of crime victims that are designed to encourage offenders to accept responsibility for repairing the harm caused by their offense by providing safe and supportive opportunities for voluntary participation and communication between the victim, the offender, their families, and relevant community members.
The entire law may downloaded as a pdf.