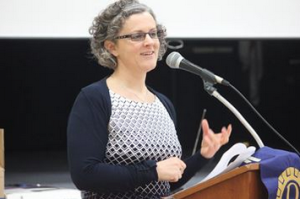 Quaker chaplain Kate Johnson, photo via OurWindsor.ca In an article for the Perth Courier, Desmond Devoy writes:
Kate Johnson is not a member of the Hug-A-Thug Club.

Neither does she want to lock up prisoners and throw away the key.

Johnson is a Quaker chaplain, social worker and restorative justice practitioner, who told the crowd at the Probus Club of Perth's meeting at the Royal Canadian Legion Perth branch on Wednesday, April 1, that restorative justice was an effective way to make life safer for corrections officers, cheaper for the taxpayer, and would help rehabilitate offenders back into the community – all while taking ownership of their crimes and the impact it had had on the victims.

"It's more a way of thinking than a method," explained Johnson.

...

Back in Kingston, [a] criminal told Johnson that, if he had known just how much his victim's family was suffering because of what he had done, "he would not have asked for" the faint hope hearing at all.

She began to think about establishing a program at the medium-to-minimum security facility that would show the inmates empathy, and how the victims of their crimes, and their loved ones, were feeling.

"I would have been super happy if 20 guys had signed up and 10 (had) finished," she said. "I would have been over the moon."

Instead, she got 50 inmates sign up – and 48 finished the program.

"I was just blown away by the results of this," she said.
Read the full article.