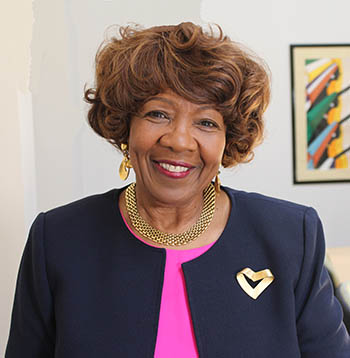 "Relationships and strengthening the fabric of communities have always been key to our work." - Alice G. Thompson, CEO Black Family Development, Inc. (BFDI)Detroit community groups are gearing up to share the extraordinary work they are doing to help make Detroit a restorative city at Strengthening the Spirit of Community, the IIRP World Conference in Detroit, MI, October 24-26, 2018. Sponsors are providing scholarships for Detroit community members, bringing a new level of connection and engagement to the conference.
In this series of interviews, our sponsors tell about their work and why they think you should join them at the conference!
First, Alice G. Thompson, CEO of Black Family Development, Inc. (BFDI), explains why BFDI is a Champion Sponsor and is hosting the IIRP World Conference.

What prompted you to sponsor community scholarships to the IIRP World Conference in Detroit?

It's BFDI's goal to establish in Detroit a restorative practices city, one community at a time. We believe in the spirit of community, and we want to work with communities to strengthen that spirit. That really is our heartbeat. Our neighborhood community circle keepers, our residents, our schools, our police, our organizations, are training in restorative practices. They are coming together to improve relationships, reduce tensions, repair harm and take control of their neighborhoods. We want to expose them to a broader vision of restorative practices, give them new ideas and spark innovations: things they can do in own neighborhood and their city.

Why should people come to Detroit?

To learn, share, pick up new ideas and receive innovations. Folks are doing unique things here that people can borrow. Our community-engagement circles are truly empowering residents. This work is really worth looking at. Our young people are leaders on how to use restorative processes to improve social connection and repair harm. I have not seen anyone as steeped in community-based work with restorative practices as we are here in Detroit.
What's one result you would like to see come out of the conference?

A greater focus on restorative practices work at the highest levels.We have been successful in revising the state school discipline code: Now you may not suspend a child unless you have demonstrated that you have used restorative practices. But by having the World Conference here, we will have greater buy-in and impact with schools, families and the community. Leadership will focus more on making Detroit a restorative practices city, and more policies can be revised at the highest level.
What would you like the world of restorative practitioners to know about your organization?

We have been working directly in communities with individuals, families and other support systems impacting children's and families' lives since 1978. Our focus is on relationships to meet the needs of children and families. Relationships and strengthening the fabric of communities has always been key to our work.

Our mission over 40 years has evolved to put more emphasis on partnerships and collective social impact. We realized that to change the character of neighborhoods, one agency and system can't do it by themselves. So now our mission is: "To strengthen and enhance the lives of children, youth and families through partnerships that support families and communities." In addition to our mission, we have seven key commitments:

Improving the well-being of children
Improving academic results
Improving neighborhood safety 
Expanding positive youth development
Improving support to families
Building community capacity 
Achieving Promise Neighborhoods Results 

In walking out our mission, we have evolved to be a pace setter for quality innovative services and training, with national recognition. That's where the IIRP comes in. Our partnership with the IIRP has enabled us to walk out that vision of providing training locally and across the country using restorative practices principles and concepts.

Restorative practices is essential to achieving our key commitments, from building community capacity to expanding youth development opportunities. The latter focus is on boys and men of color, who have the highest suspension and expulsion rates and lag behind other groups in social well-being.
Now we are moving to create a subsidiary, the BFDI Training Institute. The most important training we're doing is in restorative practices.
---