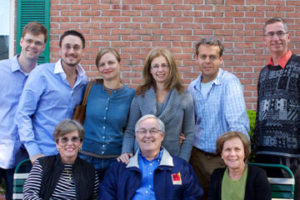 Sandy and Harry Strachan (front left and center), founders of the Strachan Family Foundation, are pictured with board members (including family) and executive director Miguel Tello (back right)
The Strachan Foundation is partnering with the Restorative Practices Foundation to fund its grantees to attend the IIRP Latinomèrica Conference in San Josè this June. This will allow representatives of nonprofit community leaders across Latin America to share and further their knowledge of restorative practices with each other and attendees from around the world.
The Strachan Foundation was founded by businessman and academic Harry Strachan to honor and advance the social investment side of the mission of his parents and grandparents, prominent Protestant missionaries in Latin America. In addition to their religious mission, they helped established schools, orphanages, media outlets and social services to support the "whole individual."
Strachan believes restorative practices can help today's society navigate a great crisis. "We as humans, throughout evolution, have developed a very dualistic sense of the world. There's a huge propensity when we come into conflict to demonize the other side," he says. "My own feeling is that there's another way of viewing the world, much more of a unity. The reality is that we all carry around the good and the bad inside ourselves. The real solution to our social problems, economic problems, political problems, environmental problems, is to stop demonizing the other side and start listening to each other. We need to begin to develop new ways of looking at the world, new paradigms and new technologies."
Strachan, like his siblings, cousins, aunts and uncles, was born in Costa Rica but educated in the United States. For 10 years he worked as a professor of the Graduate School of Business in Central America (Nicaragua) and Harvard Business School (Boston) and another 10 years as a businessman with Bain and Company and Bain Capital. But he always knew he wanted to spend the latter part of his career in public service. He later returned to Costa Rica and established the foundation with his wife, Sandy Strachan, who was the first CEO of the Strachan Family Foundation.
The grantees number 47 nonprofits with an average grant size of $16,000 per year. Strachan says the organizations are local and nongovernmental, and he describes them as social entrepreneurs who are advancing innovative programs in education and health.
"The schools and other organizations we support are in terrible barrios, in marketplaces, out in the campo. Restorative practices has been very effective for giving teachers and others useful tools for resolving conflicts. Restorative practices help the individual learn to step back from strong emotion and become aware of their feelings and also the feeling of others. It's been equally good for helping our nonprofit organizations resolve conflicts that arise within the staff to help in the management of the NGO."
Strachan credits Miguel Tello, the current CEO of the Strachan Foundation and representative for IIRP Latin America, for cultivating positive and fruitful relationships among grantees from different countries. Each year the foundation brings together its grantees and offers seminars on topics such as leadership, financial administration, community empowerment, resiliency, entrepreneurship and fundraising. This year the Strachan Foundation has decided to focus on restorative practices.
"It's not only a time of training, but also rest and relaxation to get their batteries recharged through very creative sharing," says Strachan. "This year, Miguel suggested the IIRP Latinoamérica Conference would be a perfect time for our donees to meet other groups and share their own involvement with restorative practices. We thought that was a great idea and that's why we're supporting it for all our grantees."
Support the Restorative Practices Foundation to raise $10,000 to fund Strachan Foundation grantees to attend the IIRP Latinoamérica Conference in Costa Rica this June.