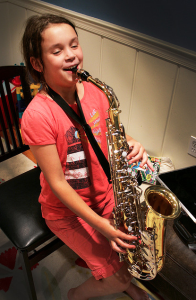 via woodleywonderworks at Flickr Creative CommonsJoyce Dawley is a music teacher in Bethlehem Area School District and a student in the IIRP graduate school who plans to graduate next spring (2013). I talked to her the other day about how she is using restorative practices with her students, and also with adults she works with.
Joyce has integrated restorative practices into her small group teaching as well as large group band and orchestra conducting. Normally she works with small groups of two to six students for a half hour at a time throughout the day. Students leave their regular classes once a week to attend music lessons. Joyce takes time to run circles with these groups to get to know students better. In particular she asks them questions relevant to music, including: "Are you having trouble practicing? Why or why not?"
Oftentimes, Joyce says, she ends up finding out a lot of things about her students' home lives, because it turns out that a big reason students have trouble practicing is that they have troubled home lives. One student Joyce initially wrote off as lazy because he only came to every third lesson and didn't practiced much. Then she found out that he really did want to practice but that he had significant family issues that made this hard. His parents were divorced and his living situation was unreliable. He never knew where he would be staying and often his trombone got left at his father's when he was at his mother's and vice versa. Once Joyce learned this, she changed her attitude about how she dealt with that student. In another case a student's grandmother died and the family was busy dealing with that.
Joyce says it takes extra time at first to get to know kids – after all, she only has a half hour a week with each group – but that it really pays off. Sometimes a student who is struggling with a technical problem like how to manage a certain fingering will say, "I need a circle time." The other kids are happy about that because it gives them a chance to explain how they do it and help each other.
When the large group of all the students get together to rehearse for performances, Joyce says that affective statements have really helped. Joyce finds that by telling students how their behavior affects her she is able to step back and not get angry. She also encourages students to talk to one another. Again, she says, this takes more time at the beginning. But after a month or so she is able to remind students how certain behavior makes others feel and they respond.
With kids who have severe attention deficit disorder (ADD), Joyce finds affective statements and circles particularly helpful. Students give feedback to each other on why they need to be quiet between songs or sections. She asks kids to say whether excess noise hinders their focus. Joyce says that as a result the kids with ADD are more apt to listen, understand why they need to sit still for a few minutes and work harder.
Joyce got outside feedback about how well restorative practices are working for her when two of the student teachers who she supervised went back to their college classes at Moravian College and reported that Joyce has no discipline problems in her classes. The students were supposed to take note of things she did to deal with discipline problems, but instead they couldn't find any. The college has taken notice and Joyce has now been asked to teach restorative practices during the first seminar class for student teachers next semester in a session titled "Using restorative practices in the music class."
This came about in response to the way Joyce handled a supervision issue with another student teacher. Joyce caught the young man in a significant lie. The principal of the school actually wanted to dismiss the young man. Instead Joyce asked if she could give him another chance and use restorative practices. First she had a one-on-one with the student teacher to confront him about his behavior, and he began to change after that. She then offered to organize a circle with the young man, two of his professors and the principal. Joyce believed that the young man's wrongdoing was not his fault alone, but was also a result of miscommunication by the college. During the first part of the circle, the young man took responsibility for his wrongdoing and discussed what he had done to rectify the situation. Then Joyce sent the young man out and she and the principal held the professors accountable for the communication lapses they believed had contributed to the problem. They said, "Let's work together to solve this," which resulted in good communication thereafter.
At the end of the meeting the professors told the principal they were "over the top impressed" by how this all worked out. They were happy that rather than pushing the student teacher out, which would have set him back a semester, the school gave him another chance to regain his trust and confidence. One of the professors asked about how Joyce ran the circle meeting and said, "Where did you learn this?" Joyce said she learned it as a graduate student at the IIRP in Bethlehem. The professor told her it was really cool and asked if she would you come and do a seminar with student teachers.
The restorative practices approach suits Joyce's philosophy. She plans to tell the student teachers that "restorative practices really lets you get to know your students, who they really are, not just the little kids you have to teach." She also emphasized that she talks to kids about "working together as one instrument." She said, "Building community is huge. Out of that comes good music." And finally, "If you can do restorative practices in a music class, you can do it in any situation."