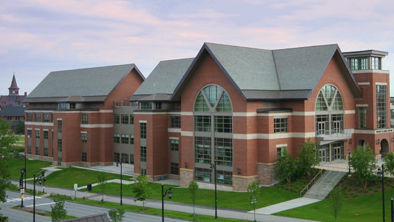 A call for papers has been issued for a conference titled "Restorative Justice, Responsive Regulation & Complex Problems" to be held at Davis Conference Center, University of Vermont, Burlington, Vermont, USA, on July 16 to 18, 2014.
The announcement states:
Restorative justice offers values and practices to make regulation responsive to families and communities. Responsive regulation offers a framework to bring together the know-how of practitioners and regulators to solve complex problems. But little theoretical and empirical work is available to guide and unite their efforts. This conference seeks to encourage dialogue on activating citizenship and governance to address problems in a variety of environments and in respect of differing kinds of entities including governments, regulatory agencies, corporate organizations, neighborhoods, communities and families. Proposals are invited from proponents within the community, government, business, and academe on the integration of restorative justice and responsive regulation.
A separate page titled "Conference Background" explains:
Restorative justice enthusiasts are no doubt familiar with critiques of criminal justice policies and practices that overemphasize punishment of offenders and do little to help victims. They are probably less familiar with theories and practices used by their colleagues in other professional areas such as corporate, business, health, environmental regulation. They hold in common the view that punishment, when it is seen as excessive, unfairly administered, or is seen as a bluff, typically fails in its goals and often provokes reactivity or loss of trust in the system of regulation.
The conference will offer an international slate of keynote speakers, including Drs. John and Valerie Braithwaite, plus educational, training and networking opportunities for practitioners in the emerging field of regulatory affairs as well as those more familiar with the flourishing range of restorative justice practices. Daily panels will bring together presenters who address the complex issues of power and privilege that sustain exploitive and harmful behaviors in different social environments and propose creative solutions.
The conference is hosted by the University of Vermont with support from a range of sponsors and co-sponsors under the umbrella of the Community Justice Consortium, a partnership that was established in 2005 between the University of Vermont College of Education and Social Services and the State of Vermont Agency of Human Services.
Proposals for papers, presenters and posters on wide range of topics – including restorative cities, communities, schools and higher education; peacebuilding; civility in the workplace; food security; regulation pertaining to the environment, health, and white collar crime; whistleblowing; community-centered child, youth and family engagement; and more – should be submitted online by September 16th, 2013 via the "Call for Papers Submission" page.
Learn more about the Restorative Justice, Responsive Regulation & Complex Problems Conference.
The conference is being spearheaded by Dr. Gale Burford who, with Joan Pennell, coined the term family group decision making (FGDM) during the 1990s in a project in Newfoundland and Labrador, Canada, to which used the family engagement process to address domestic violence.
I'd also note that Dr. Stacey Miller, Director of Residential Life at UVM, has collaborated with the IIRP to implement restorative practices throughout residence halls on campus.