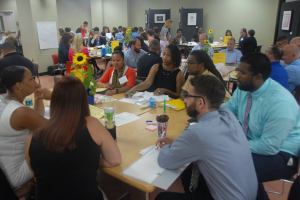 This school year, Pittsburgh, PA, Public Schools (PPS) are set to launch the largest restorative practices Whole-School Change program ever undertaken, with 22 elementary, middle and high schools participating.
The U.S. Department of Justice has provided $3 million of funding for the district's Pursuing Equitable Restorative Communities (PERC) project. The grant will pay to implement the International Institute for Restorative Practices (IIRP) SaferSanerSchools Whole-School Change program, a comprehensive two-year school implementation model. It will also provide for the RAND Corporation to measure the effectiveness of restorative practices in the 22-school "treatment group" against a "control group" of 22 other schools in PPS that will not participate in the program.
"We're hoping that we're going to see teaching and learning environments that are more welcoming, schools where teachers want to teach and students want to learn and feel valued," says Dr. Dara Ware Allen, PPS assistant superintendent for support services.
The district's grant application calls for "Changing the dynamic between students and adult educators as well as the way students relate to one another, particularly in times of conflict" in order to "significantly lower suspension rates and involvement in the juvenile justice system."
Ware says the district has had this goal for awhile, and in fact they've succeeded in reducing suspensions, though not the racial disparity gap. "The central office wants to do something beyond just saying, 'Don't suspend. Pay attention to racial discipline disparities.' Restorative practices provide a way to unify people and provide alternative strategies that fundamentally build upon establishing strong relationships between teachers and students."
A project of this size requires a great deal of coordination and cooperation throughout the district. Keith Hickman, IIRP director of continuing education, comments, "This is the largest number of schools that we've worked with." He is coordinating seven instructors who are each working with three schools (four in one case). "We have enormous participation and buy-in from all levels, from the superintendent to staff."
Readiness and ramp-up
During the first phase of the project – "readiness and ramp-up" – the IIRP and PPS have spent more than six months getting ready to launch. A key feature of the ramp-up has been to have all senior leadership, including the 22 principals implementing Whole-School Change in their schools and senior leadership from the central office who are involved in implementation, participate in the IIRP's two-day professional development event, Restorative Leadership Development: Authority with Grace. They learned a common vocabulary and skills for building relationships with staff using practical supervision strategies, responding to conflicts and effectively managing organizational change.
The leadership event was "a unifying experience," says Allen. "It was good to have everyone in the same room coming together to share their best hopes and concerns for what can come out of this work. The training was organized to bring out commonalities, and reinforced the belief we have about how relationships should be built within schools and ultimately restored."
But Allen adds that restorative practices is not only for the schools. The central office plans to adopt a restorative approach, as well. "We want to mirror in the central office, in how we deal with each other as colleagues and interact with school leaders, what we are looking for," she says.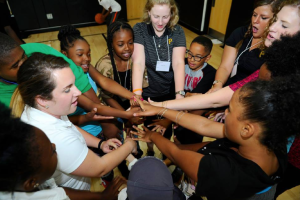 At the school level, the IIRP is providing its Introduction to Restorative Practices and Using Circles Effectively professional development to over 1,000 people, from teachers and counselors to secretaries and janitors. Instructors will also work with each school's leadership and staff to develop a customized plan based on their own needs and goals, organize staff "professional learning groups" and monthly follow-up phone meetings and will visit each school for four full days throughout the project to deliver face-to-face consultation tailored to each school's needs.
Research outcomes
Throughout, RAND will use a variety of measures to track the impact of restorative practices implementation. These include:
suspension and behavior incident rates by race, gender and category;
attendance;
student withdrawals and transfer;
involvement in the juvenile justice system and services for youth, mental health,
homelessness and drug and alcohol abuse;
test performance.
RAND will also analyze data from annual student and staff self-assessment surveys providing insight into perceptions of the quality of the teaching and learning environment, peer relationships and students' feelings about being in school, according to a document provided by Dr. Catherine H. Augustine, Senior Policy Researcher for RAND.
Each metric that RAND employs will be compared with the 22 Whole-School Change schools' own data to reveal year-over-year trends as well as against data from the 22 "control group" schools. (While those schools will not be allowed to implement the IIRP's SaferSanerSchools program at this time, PPS intends to develop a stable of licensed trainers from its own ranks who will help implement the program in the remaining schools once the study is complete.)
"Restorative practices is an important strategy because it helps encourage important conversations that help build relationships between teachers and students, and in fact between all adults and students together," says Ware.
"Instead of a punitive approach that doesn't get to the root thinking behind a problem, and the triggers, restorative practices enables the kinds of conversations, using simple affective statements all the way up to restorative conferences, that allow relationships to develop and really help teaching to flourish."
Hickman predicts, "Pittsburgh will become the model, the blueprint, because of the research study, for how we can effectively, with fidelity, work with other school districts."
Concludes Allen, "We're going to learn great things to transfer to all of our schools!"
---
Read a report just released by A+ Schools, a Pittsburgh Public Schools advocacy group detailing its findings on what practices leads to a positive school climate.