The other day I posted about Dignity in Schools week of action on school pushout. You can find actions near you here.
Since we're based in Bethlehem, Pennsylvania I'd like to highlight this event in Philadelphia tomorrow - Thursday, October 6, 2011, from 5:30 to 8 pm: "Youth Speak Out Against Push Out": Story-gathering on School Push Out, at The United Way Building, 1709 Benjamin Franklin Parkway, Philadelphia, PA (between 17th & 18th).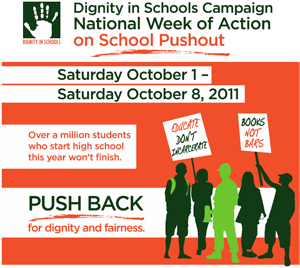 They event page says, "Young people will come together to share their experiences with pushout, including issues such as school policing, zero tolerance policies, the impact of budget cuts, lack of violence prevention, youth incarceration, and more." Folks are invited to: "Come share your stories, hear from young people, and build youth power to challenge the many ways young people are pushed out of our schools!" It sounds like a great event.
But there are at least a couple other events we've heard about. Today is National Safe Schools Day and there is a Facebook Page devoted to this issue here. And PACER's National Bullying Prevention Center says this is National Bullying Prevention Month. IIRP offers its SaferSanerSchools model of whole-school implementation as a response to these issues as a way to build school culture and community, and better yet to prevent and address issues like bullying before they get out of hand. You can read more about that program here.
But we'd like to hear from you? Do you feel safe in your schools? What kinds of actions do you take to proactively change school culture as well as respond to bullying and violence?