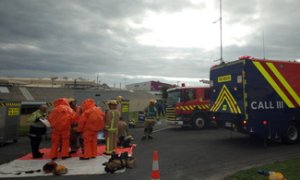 Photo by Stuart Munro at the Wanganui Chronicle.In Wanganui, New Zealand, a city striving to become a restorative city, a company that "failed to ensure its employees' safety after a toxic leak," according to the court reporter for the Wanganui Chronicle, has pled guilty in court and is now requesting a restorative justice conference between the company and the injured workers. The report states:
"The leak on November 2 last year saw 21 workers exposed to hydrogen sulphide after a mix-up of chemicals. Two workers were in hospital for a week. ... The section 6 charge carries a maximum fine of $250,000 and judges may, at their discretion, also order emotional harm reparations to be paid.
"Tasman Tanning has requested a restorative justice conference with the two workers worst affected by the exposure to the gas. Whanganui Restorative Justice Trust facilitator Sue Anderson was also in Court. ...
"The company will meet the two primary victims - who were reported to be in Wellington Hospital for a week after a mix-up of chemicals was added to the wrong processor at the plant. The combination with the chemicals in that processor caused a hydrogen sulphide cloud. The victim impact statements will be part of a restorative justice report."
Read more eForum posts about Wanganui, New Zealand.
Read the full report at the Wanganui Chronicle.