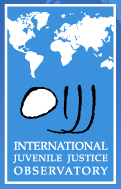 Here is the International Juvenile Justice Observatory (IJJO) announcement of its conference November 6 & 7 in London, England titled "Criminality or Social Exclusion: Justice for Children in a Divided World":
Even before the 'credit crunch' of 2008 and the economic crises of 2011, the globalization of neo-liberal economic and fiscal regimes was generating growing social, economic and cultural polarization.
This has resulted in ever increasing numbers of children, young people and families finding themselves located in areas of concentrated social disadvantage on the margins of society where ethnic minority and migrant people are heavily represented.
These circumstances have generated desperation in some and anger in others. They are also a major factor in the emergence of distinctive forms of group offending and public disorder in these neighbourhoods and, more recently, rioting in the major UK cities.
These forms of offending are also evident amongst marginalised young people in other North American and European cities and, as Malcolm Stevens the IJJO's UK Commissioner has observed, they represent..... a new and quite different entrée into crime and delinquency, with different justification values and a different perspective of safety and respect.
For these reasons it has become necessary to look beyond traditional, individualised approaches to work with young people in trouble and focus instead upon work with groups and the communities in which they live.
For more information, including keynote speakers, visit IJJO's web site.