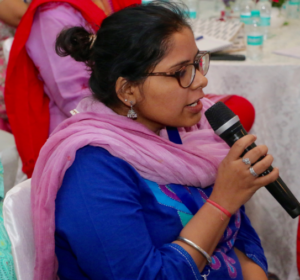 Judges, lawyers, youth justice workers, police and social workers in India, the second most populous country in the world, are beginning to look at ways to make their criminal justice and child protection systems more restorative. To advance these efforts, the law faculties at the national universities in the cities of New Delhi and Bangalore, with the support of UNICEF, recently hosted two multi-day restorative facilitator trainings taught by longtime partners of the International Institute for Restorative Practices, Terry O'Connell of Australia and Jean Schmitz of Peru.
O'Connell, a former police officer and restorative pioneer who developed the IIRP's Real Justice conference script, says, "It was an amazing experience. We worked with such high-level, credentialed participants. The focus had to be on practice."
He and Schmitz, an IIRP graduate and licensed trainer, taught participants the basic elements of restorative practices as well as techniques for running a formal restorative conference to address harm. Through the use of role-plays, they also gave participants an opportunity to actually practice what they learned.
O'Connell says, "I am less concerned about changing the system and more about changing people's experience within systems. I challenged them to think about the conversations they might have in their own court settings and other workplaces."
Arlene Manoharan, a social worker who now heads the juvenile justice program at the Centre for Child and the Law at the National Law School of India University and helped organize the training, says, "Terry's training helped build a deeper perspective on the use of emotions and conversations as currency to enable rebuilding and strengthening of relationships in any setting. I see very real possibilities of using restorative practices with children and families in the detention center where my team works. So many of them yearn for healing and rehabilitation but are unable to achieve it given the minimal resources available."
Lolichen Pullemplavil, a child prevention specialist for UNICEF, says, "It was significant to appropriately understand [the] need for conferencing, [the] preparatory phase, [the conference] structure, and … especially framing the right questions and having the right conversations. In order [to] enable this[,] how critical it is to have the right mind-set" (Centre for Child and the Law, 2016).
Schmitz comments that being in India reminded him of how things were in 2002 when he started working in the field of restorative practices in Latin America. "People were concerned about how difficult it would be to change the law. You keep thinking about the retributive mentality of the judges and the system, and it feels like it will be almost impossible to implement restorative practices." He assured participants that India is no different from Peru or Brazil before people started to making restorative practices more prevalent. "The law arrived after the practices," encouraged Schmitz. "Based on the success of the practices, countries decide to change the laws to make them more restorative. It takes time."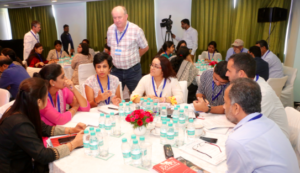 Participants left the trainings looking to begin implementing what they learned in a variety of settings. A psychotherapist talked about using circle processes and restorative conferencing with the couples, families and individuals who might want to invite others into a circle to help them grow. Others talked about directly allowing communities to embrace the approach or using the processes to address conflict in group homes.
Nitya Bansal, a Delhi lawyer, mediator and founder of a nonprofit that promotes restorative and related practices, Sai Centre for Socio-Legal Action, says the training strengthened her understanding and resolve. "Currently, I am approaching juvenile homes and schools so we could start pilot projects on these practices with them," she says. "This I hope would help me hone my skills of carrying out these practices, as well as identify the specific barriers to effective implementation in the Indian context and address them. I also wish to generate some statistics suggesting and supporting the efficacy of these processes."
Concludes Senior Law Officer P. Sunilkuma, "Both Terry and Jean [were] really wonderful with their immense experiences from the ground[,] along with [the] vibrant Conference participants. At the end of [the] Conference what [I] felt was [that] we were exposed only to the tip of an ice berg. We have to do a lot if we want to further the idea in to our issues and system as a whole. But [I] always like to remember[,] 'The journey of a thousand miles begins with one step'" (Centre for Child and the Law, 2016).
Reference
Centre for Child and the Law, National Law School of India University. (2016). Knowing the Right Conversation – Restorative Facilitation Training. Bangalore, India.