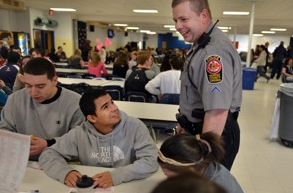 From the Washington Post
Denver, Colorado, is in the national news this week. At a time when some are calling to beef up police security in schools, Denver is limiting by contractual agreement the role of police in schools, and requiring training for those police who will remain so that they do not wind up criminalizing more students. The approach calls for restorative justice. The Washington Post reports:
As communities across the country beef up police presence in schools, Denver may become a national counterpoint Tuesday, when officials plan to sign an agreement to limit the role of law enforcement at the city's schools — a move that could mean fewer students will face arrest or citation for disciplinary infractions.

. . .

Leaders from the city's police department and public school system are to sign an eight-page contract that will bring detail to often-murky questions about the role of police in schools. The agreement emphasizes differences between student offenses that should be handled by educators and those that need police action, urges de-escalation of campus conflict when possible, and supports "restorative justice" practices that focus on making amends for misconduct rather than punishing for it.

Denver Superintendent Tom Boasberg said the move marks a "step forward" for the system of 84,000 students. "We believe that an effective restorative justice approach makes schools safer, helps keep our kids in school and on track to graduation, and makes kids learn from their mistakes and make them right," he said.

. . .

"It's not, 'You did something wrong, go home for five days and watch television,' " he said. "It's, 'What did you do wrong? Who did you harm? How are you going to make them whole, and what are you learning from this?' "
Read the full story: A shift in Denver: Limits on police in schools by Donna St. George.