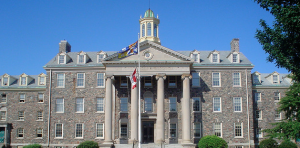 Photo by Duane Brown at Flickr Creative Commons
The following story was posted at CBC News Nova Scotia, about a restorative justice program set up at Dalhousie University. IIRP hosted its 14th World Conference in 2011 in Nova Scotia in cooperation with Nova Scotia Restorative Justice Community University Research Alliance (NSRJ-CURA). NSRJ-CURA director Jennifer Llewellyn, and a number of other participants at the conference, are also professors at Dalhousie University.
---
Dalhousie University students who end up in trouble with the law now have a way to try to right the wrong without having to go to court.
The University, police and the province's Justice Department have set up a restorative justice program just for students of the school. It's the first program of its kind for university students in Canada.
The idea is when students commit a minor crime, they will have the option of having their file handled by a university staffer rather than the court system.
"We have a lot of people coming here that are spreading their wings for the first time," said Deputy Chief Bill Moore, of the Halifax Regional Police. "Their mistakes impact their community. This is, we're hoping to see a change in behavior."
Moore said since the start of the school year, his officers have dealt with 70 students who all violated drinking laws. 50 of those have agreed to try this new process.
"We're hoping to give them an opportunity to right the wrong that they did. But at the same time maybe get an understanding of the impact that they've had on the community that they're in."
via Dalhousie offers restorative justice option for students - Nova Scotia - CBC News.