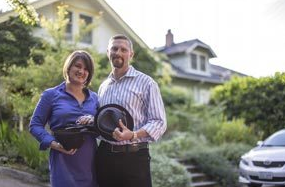 Photo of crime victims, Eliza and Blake Webb by Dean Rutz in the Seattle Times
This remarkable story, by Christine Clarridge in the Seattle Times the other day, recounts what happened after a woman found a cell phone left behind in her ransacked car. The story begins:
"When Eliza Webb found a stranger's cellphone inside her ransacked car last month, it didn't take a lot of sleuthing to determine two things: one, the cellphone probably belonged to the person who'd prowled her car; and two, the culprit was likely a teen."
Because Webb worked with teens, and because her husband had faced many difficulties in life due to a "youthful indiscretion," she decided not to inform police and instead see what she could work out directly with the youth involved.
Here's how Webb proceeded:
When Webb found her car ransacked the morning of June 14, her initial thought was that her husband had been looking for something in the dark. But she soon found the unfamiliar cellphone on the seat and discovered that her gym bag had been rifled and her running shoes and sunglasses were missing.She opened the phone and began going through text messages and phone contacts. She pushed the contact listed as "Mom" and reached the prowler's mother.

"She was wonderful," Webb said. "She said she would support whatever decision I made, and she invited me to go to her house and talk to her son."

When Webb and her husband got to the house, about five blocks from their own, she found the 19-year-old and his twin sister crying.

The teen quickly owned up to what he had done, said his actions had been fueled by alcohol and boredom, and apologized.

Webb's husband then told the teen his own story.

When he was 20, Blake Webb was charged with underage drinking after he went out partying with friends and decided to walk home rather than get in a car. An officer saw him on the road, asked whether he'd consumed any alcohol and Webb told the truth.

Although he is now a dosimetrist, calculating radiation doses at a cancer-research facility, Blake Webb still has to disclose that criminal conviction on job, rental and school applications 12 years later, his wife said.

"We just wanted him to know that everybody does things they wish they could take back, but some things will be on your record forever," she said.
After this, however:
The teen also admitted that he and his friend had prowled about 12 additional cars that night, Webb said.

"That stopped me," said Webb. "I originally went there to talk to him and get my things back, but now we were talking about other victims."
Ultimately, Webb decided to continue to see what could be accomplished without involving police. The teen led her and her husband to the other teen involved and his father. Together the group managed to find all the victims, return the stolen items, and also hear from the victims how they had been affected by the burglaries.
Strikingly, one of the teens says afterwards, "I'm actually kind of glad it happened. It felt terrible to hear that people are worried and feel like they have to lock the door because of what I did. In a funny way, I feel closer to my neighbors and kind of look forward to seeing them around in different circumstances."
I think this piece sheds a lot of light on how an individual can implement restorative practices in their own community. While the circumstances here are extraordinary, the ideas can certainly be generalized. Read the entire article at the Seattle Times.