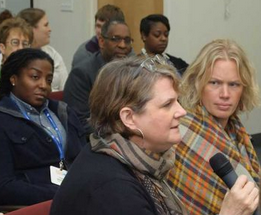 This October 23-25, the IIRP presents its 23rd World Conference: Learning in the 21st Century: A Restorative Vision.
IIRP President John Bailie, Ph.D., offers these comments on the theme of the conference: "A world that is smaller and more connected than ever before requires new ways to learn and teach. This conference will explore cutting edge pedagogy, community development and how insights into social and emotional development will change how children and adults learn in the 21st Century."
IIRP Provost Craig Adamson, Ph.D., one of the featured speakers at the conference, will present on the topic of adult learning. He provides this reflection:
"Adult learning is critical to the mission of IIRP… specifically if we plan to have a positive impact on civil society. As restorative practices continues to influence multiple disciplines, we should begin to better understand pedagogy that best supports learning. In today's world, creating space for challenging past habits of mind while developing skills and competencies needed for the next generation's social and emotional growth is both exciting and challenging. As a global community, restorative scholars and practitioners will be engaging in pushing the emerging social science of RP forward at the World Conference."
Other featured presenters at the conference include:
Pamela Randall Gardner, Ed.D., Senior Staff Advisor for the Collaborating Districts Initiative at CASEL, who will teach participants skills for building supportive school communities through practices and approaches grounded in social emotional learning, equity, trauma-informed instruction and restorative practices.
Mica Pollock, Ph.D., Director of the University of California San Diego Center for Research on Educational Equity, Assessment & Teaching Excellence, who will present on her book, "Schooltalk," highlighting how educators may "Transform Communications That Feed Inequality in Our Schools."
A panel including RAND Research Programmer Geoffrey Grimm, administrators from Pittsburgh Public Schools and IIRP Director of Continuing Education Keith Hickman. They will discuss survey findings from the district's implementation of restorative practices through the project, Pursuing Equitable Restorative Communities.
The conference will also feature a wide variety of presentations on aspects of learning, including the neuroscience of learning, self-directed and self-regulated learning, adult learning, online and blended learning modalities, teaching and implementing restorative practices in higher education settings, empowering students as change agents and involving families in education.
Here are just a few of the sessions:
Making School Optional: Empowering and Respecting Teens and Families (Kenneth Danford, Executive Director and Founder, North Star: Self-Directed Learning for Teens; Joshua Wachtel, Core Staff, North Star: Self-Directed Learning for Teens and Content Specialist, IIRP)
The Critical Role of Youth in Building Restorative Cultures in Schools (Rick Phillips, Founder, Community Matters)
Shifting Educator Mindsets Toward Restorative Practices (George Sirrakos, Jr., Ph.D., and Mark Wolfmeyer, Ph.D., Assistant Professors of Secondary Education at Kutztown University of Pennsylvania)
How Schools Can Meet the Needs of Immigrant Students and Families During a Trump Presidency (St Claire Adriaan, Academia Avance Charter School; Tommy Ramirez, Dean of Students, MAAC Community Charter School)
Researching Restorative: Mining for Information Gold in Muddy Online Waters (Zeau DuBois Modig, M.L.S., Librarian, IIRP Graduate School)
The full schedule of sessions highlights work on restorative practices in schools, justice, community and organizational settings. You can view the complete schedule and presenters on our conference app and register for the conference.