The city of Detroit has been plagued by some of the worst crime and violence in the U.S., along with rampant student expulsion, dropping out and truancy.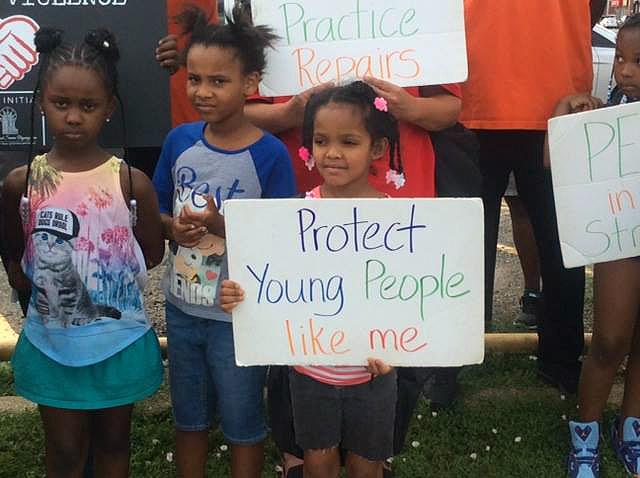 Children at a peace walkBut thanks to an IIRP project, restorative practices are taking hold in Detroit's neighborhoods, schools and systems. Individuals are becoming active stewards of their community, as elders and young people are learning processes that repair harm and rebuild relationships.
Detroit community members are eager to share their successes and learn from practitioners from around the globe at "Strengthening the Spirit of Community," the IIRP World Conference in Detroit this October.
"They want to celebrate and share the progress they're making in their city and hear what other places are doing with similar challenges," affirms Alice Thompson, CEO of IIRP partner Black Family Development, Inc. (BFDI), which is hosting the conference.
Community circle keepers have been instrumental in making Detroit's neighborhoods safer. Trained in restorative practices by BFDI, circle keepers facilitate block club meetings where neighbors work together to solve problems and improve quality of life.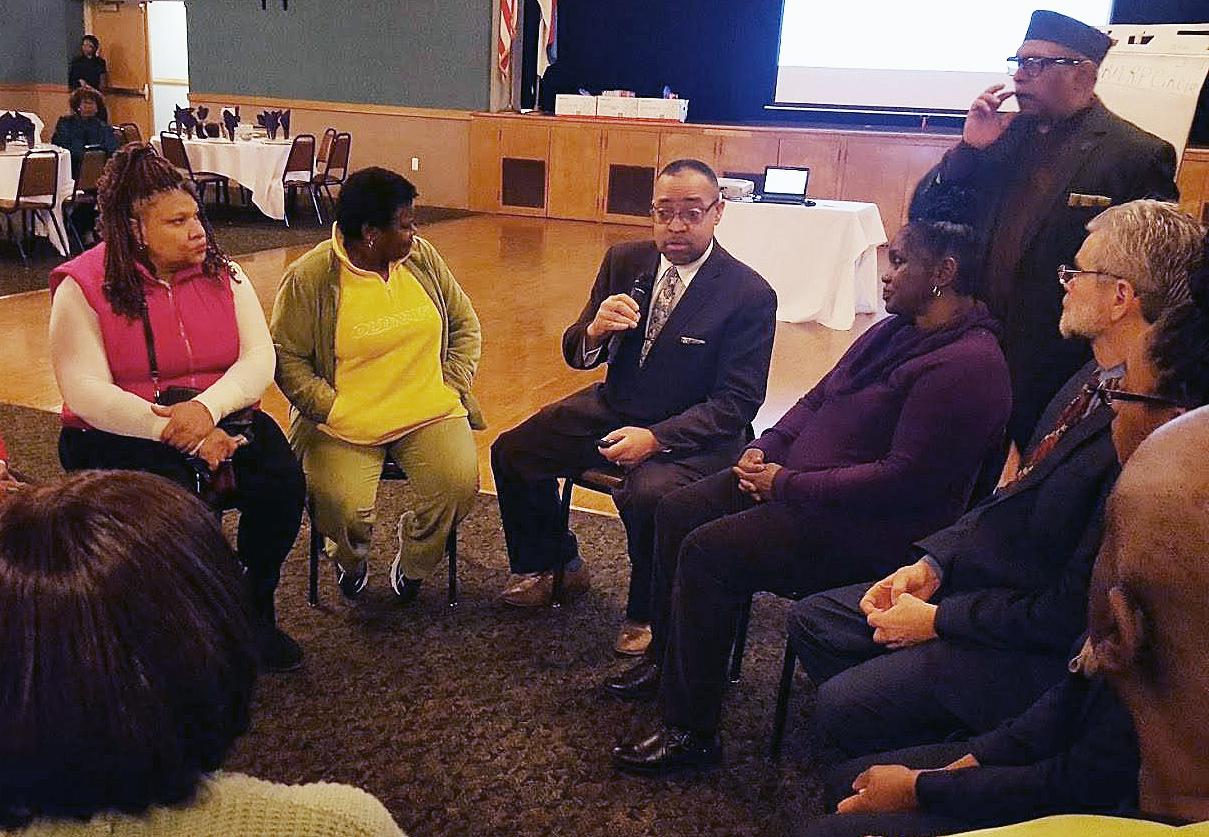 Block club restorative practices trainingBlock clubs, also called community associations, have played a role in neighborhood renewal and fellowship in Detroit for nearly 100 years. But since restorative practices were introduced, club meetings are held in a circle. Their presidents, now called circle keepers, are mindful that all voices are heard and that everyone takes responsibility for improving their community.
The heart of the work is self-determination, explains Thompson. "We are responsible to create peace in our neighborhoods, reduce crime and watch over each other," she maintains. "We establish that this is the block's culture, so that every household buys in."
Circle keepers act as the eyes and ears of the community. A group of young men was always hanging out on the block drinking and shooting dice. Circle keeper George Preston, a long-retired Detroit police officer, addressed the issue, aided by other block-club members. Instead of condemning the young men, the members asked them how they thought their behavior reflected on their neighborhood. The young men admitted that it didn't create a good impression and promised to stop. They kept their word and began pitching in to improve their neighborhood.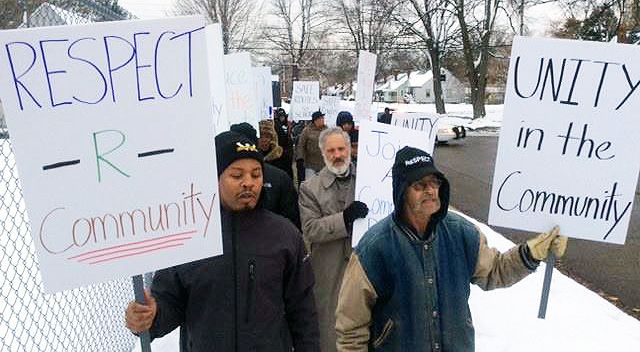 Neighbors at a peace walkWhen a local donut shop became a drug haven, residents were afraid to patronize it. So Preston organized a neighborhood peace walk outside the shop. "We let the owner know in a positive way that we wanted him to come on board to improve the community," he explains.
Realizing that his neighbors wanted to work with him, the owner agreed to make the shop a green-light establishment. A flashing green light alerts everyone that there's a camera onsite connected to the police department. Criminal activity in the shop has ground to a halt. More peace walks at a local gas station and fast-food restaurant turned the whole neighborhood into a safe green-light district.
Preston is looking forward to coming to the IIRP conference. "I want to see what others are doing all over the world to help us improve what we're doing in our little corner of the city," he affirms. He believes what he and his neighbors can do is essential for the future of Detroit.
You have an opportunity to join BFDI, University of Michigan-Dearborn and the Skillman Foundation to provide conference scholarships for Detroit community members. By donating to the Strengthening the Spirit of Community Scholarship Fund you are investing in people like George Preston, who are making a difference.