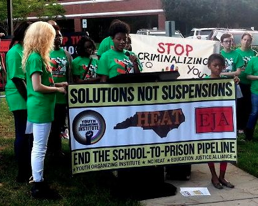 Dignity in Schools, a national organizations that unites parents, youth, advocates and educators to support alternatives to a culture of zero-tolerance, punishment and removal in schools, reports on its National Week of Action Against School Pushout:
"The Fourth Annual National Week of Action took place from September 28 to October 5, 2013. Over 60 organizations in 22 states joined the Dignity in Schools Campaign to 'Push Back Against School Pushout' in our largest Week of Action to date. Students, parents, teachers and advocates lifted their voices to demand an end to school disciplinary policies that push students out of school and down a pipeline to prison and low-wage jobs.
"During this year's Week of Action, we raced against the U.S. government shutdown clock with our SparkAction alert urging members of the Senate to support federal school discipline reform. On September 30 our message reached 150,000 people on social media via Thunderclap. Over the course of the week, almost 2 million Twitter posts (tweets) used the #SchoolPushout hashtag and our Facebook posts reached about 13,000 unique users. We also added a Dignity in Schools Tumblr page and an Instagram account to share photos of actions and events across the country!"
Each day of the week featured a theme like Solutions Not Suspensions, Counselors Not Cops and Restorative Justice.
Read about the week in a post that highlights events from across the country day by day.