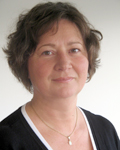 Vidia Negrea, Director of CSF HungaryFrom a new eForum article by Vidia Negrea, Director of Community Service Foundation of Hungary, and IIRP affiliate, about a restorative process used in the transition process for releasing a prisoner who had committed murder:
The first phase of a three-phase intervention plan involved preparing and running a circle meeting with János and his family to prepare for his temporary release. This hybrid restorative circle came out of my experience with FGDM and less formal restorative circles and was designed to meet the needs of prison officials, the prisoner and his family.

I held preparatory meetings with János in the prison, his partner Mária, their two children and Mária's parents in her family home. János's son, struggling with tears, talked about how he had been stigmatized as a small child for what his father had done and how hard it was for him not to respond with violence. Mária's mother summarized how the family related to János: "I condemn what he did, he committed a crime. But János is a kind man, and we would be happy to have him with us again, as long as his intentions are good. The children need him, and so does Mária, who still loves him." All five agreed to attend the circle meeting.

The meeting took place in the prison in September 2009. The prison governor, department manager and probation officer from the Zacchaeus Program also attended. The governor spoke about the process; then I facilitated the circle using restorative questions: What happened? How did it affect people? What should be done? Every participant shared their thoughts, feelings and needs, recent major achievements and difficulties, as well as the consequences of János's actions.

The whole family was moved by the governor's report on János's behavioral change. Everyone brainstormed how to strengthen family ties, enhance communication and ensure the family spend the holiday happily together.

During discussion of expectations and specific plans, János brought up a topic the family had never talked about in the presence of the children or strangers: his two other children, whom he said he wanted to care for. The children were shocked, having known of only one half-sibling. The family showed strong emotional responses — from speechlessness to anger to blame. I encouraged everyone to take turns expressing their feelings about this information. Mária expressed her formerly hidden disappointment, anger and shame about János's actions. The revelation of the secret resulted in a positive turn in the conversation, making communication more open. The family dealt with the real needs and expectations for their future and prioritized issues.

They decided that János would first observe interactions between the children and other family members, and only later, after discussing what he saw and consulting with his partner or his mother-in-law, actively deal with the kids. The children said they wanted János to appear with them on the city streets "so everyone can see we have a kind, strong and handsome father who we can introduce to our friends."

The governor said he had never had an easier decision about a release because he had never been able to observe how a family operated. The cohesion of János's family assured him they would be able to provide control and support for him.