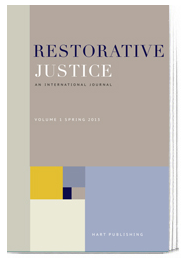 Restorative Justice: An International Journal, is currently seeking submissions.
As stated on its web site, this peer-reviewed academic journal "seeks to facilitate the development and exchange of the best and most rigorously researched theoretical and practical scholarship within the domain of Restorative Justice (RJ).
"Restorative Justice publishes original, ground-breaking and innovative articles about RJ and contains a vibrant book review section in which new books relevant to RJ are reviewed by leading scholars in the field. As such the journal seeks to be the leading worldwide forum for those working in the field of RJ - academics, researchers, practitioners, policy-makers and interested citizens."
Detailed submission guidelines may be found here.
All Restorative Practices eForum subscribers are entitled to a discounted subscription to Restorative Justice.