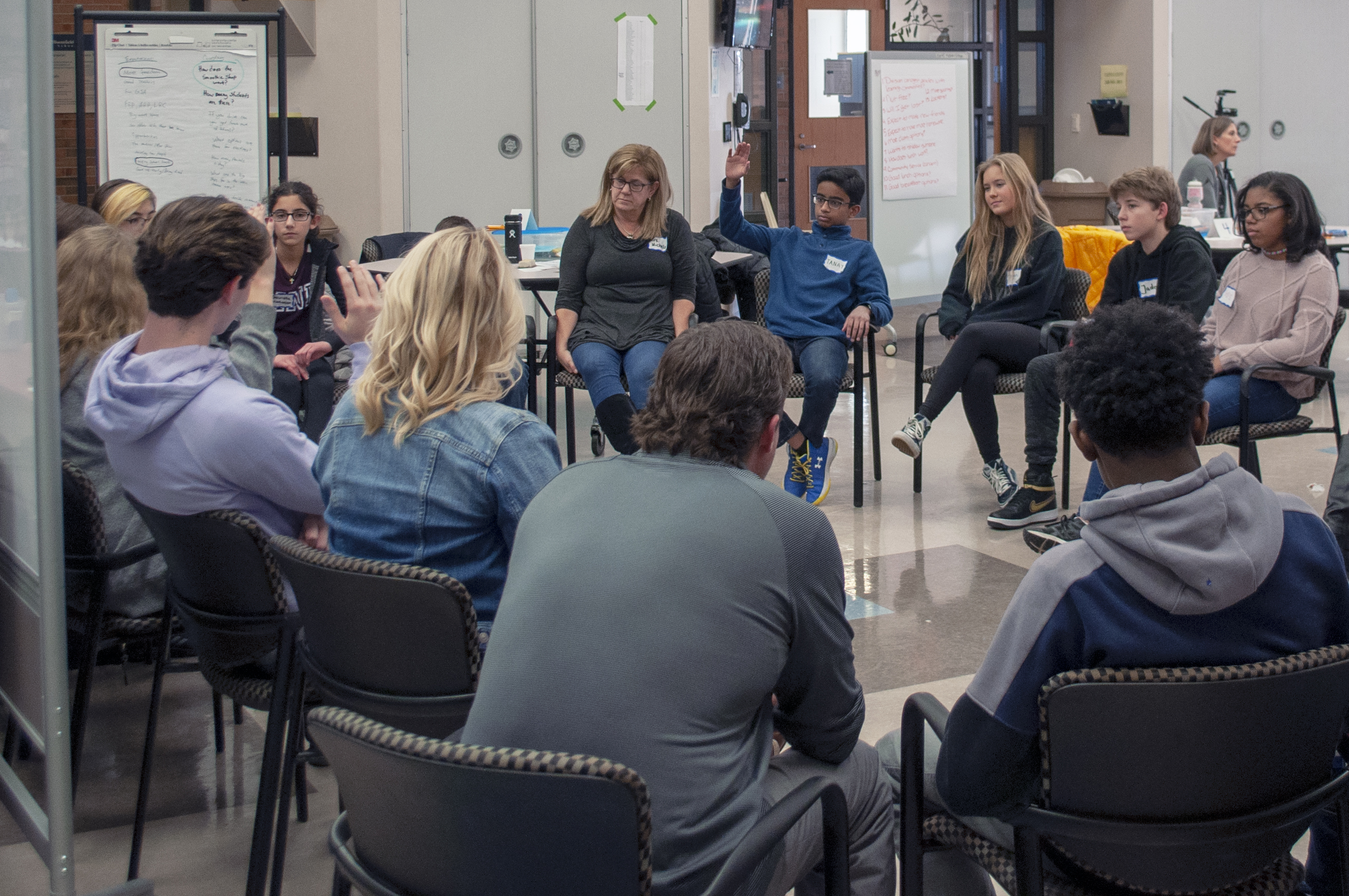 Freshman boys at a high school outside Detroit shocked their community by performing a hate-filled anti-Semitic rap song in the lunchroom. But bringing people together to repair the hurt they caused turned an ugly episode into an opportunity to build empathy and respect.
Harm spread throughout the school as a video of the incident circulated. "The most difficult part," lamented a member of Bloomfield Township's Jewish community, "was that it was not a single individual, but a whole group of 10 or so who were laughing and cajoling, filming and encouraging him."
More than half of the staff at Bloomfield Hills High School had received professional development in restorative practices. Margaret Schultz, the district's Administrator for Social Emotional Learning & Educational Equity, also a licensed trainer for the International Institute for Restorative Practices (IIRP), got to work immediately, building understanding and accountability among those involved in the incident.
Schultz and the school administrative team asked each of the students restorative questions, from What happened? to Who was impacted and how?
Asking these questions was an opportunity for the students to explore the boundaries of trust and safety that had been violated. Several of the offending students spoke with emotion about the shame they had brought upon themselves and the pain they had caused others.
The team also facilitated a restorative conference. In this structured meeting, the students who had caused the harm and those affected came together to talk about what happened, express their feelings, ask questions and have a say in the outcome.
Twenty-six people participated: students, staff, family and community members, including Rabbi Joshua Bennett, of nearby Temple Israel. Rabbi Bennett is connected to the school as a parent, youth leader and community resource.
Shame and uncertainty ran high as the conference began. "There was very little eye contact between the boys and others in the room at first," notes Rabbi Bennett. But exploring the restorative questions gave participants a structured opportunity to articulate their pain and remorse and allowed everyone to move on and repair the harm.
The boys who caused the incident — and their family members — had to face painful feelings, hearing firsthand from people they had hurt. It was hard for the boys to accept responsibility and make amends: much harder than being suspended from school. The effects of the conference — changes in behavior and increased empathy — are deeper and more enduring than any punishment would have been.
When the conference turned to how to make things right, Rabbi Bennett offered to lead participants on a tour of the United States Holocaust Memorial Museum. The students who composed the hateful rap song were required to view graphic exhibits of anti-Semitism at its deadliest and most brutal.
After the tour, some students spoke of the loss of millions of lives because too few had the courage to speak up.
One parent expressed a hope: "It's hard to know, until another incident in their lives comes along where they have the option to stand up, whether they will actually do it. But if one does, it was worth it."
"While this incident of anti-Semitic hate speech was very emotional and devastating, we are a stronger community now because of the restorative process used to address it," comments Charlie Hollerith, Principal of Bloomfield Hills High. "The process allowed all students to be welcomed back into the community, now with stronger relationships and a larger understanding of their role within the community."
"Everyone's story matters," Schultz observes. "Restorative practices allows space for building empathy and all voices to be heard. When something goes wrong, we only have to keep it simple. Just come back to the restorative questions."
"Restorative practices are applicable in every aspect of our lives," adds Rabbi Bennett. "In our families, our schools, our communities and our businesses. There are moments of conflict where we have to learn to say we're sorry, allow for mistakes to be made and grow from them."
At Bloomfield Hills Schools, everyone continues to work toward building an equitable, inclusive and restorative culture. At any time, you will find administrators, students or the PTO in a circle, striving to understand each other and build a stronger school community.