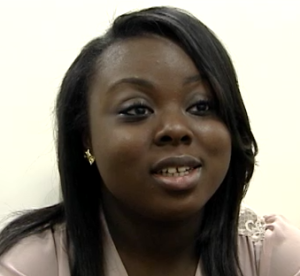 A Fairfax student during a restorative circle simulation from a video about the FCPS Restorative Justice programPoised between the Blue Ridge Mountains of Virginia and Washington D.C., Fairfax County Public Schools (FCPS), is a progressive and diverse school system on the edge of change. FCPS has initiated a system wide implementation of restorative justice processes in our schools which aims to transform how the FCPS community handles harm and wrongdoing. Several schools in this 200+ school system, the 11th largest in the country, have been exploring the use of restorative justice since 2004 to respond to discipline issues through pilot programs at two large high schools and various trainings for staff.
In 2011, Vickie Shoap, a veteran RJ facilitator in Virginia's criminal justice system, was hired to develop and manage a system-wide RJ implementation that would educate schools about this valuable tool and train school staff to facilitate RJ processes. The goals of this initiative are to build a culture of support for conflict resolution, including restorative practices for classroom management and restorative justice processes for discipline issues that offer school administrators an effective disciplinary option other than suspending students. FCPS hired a second restorative justice specialist in 2013, Dan Wichman-Buescher, a graduate of Eastern Mennonite University. Shoap and Wichman-Buescher are responsible for training school staff in restorative practices, facilitating RJ processes and training restorative justice school teams for long term sustainability of RJ in FCPS.
FCPS's restorative justice approach encompasses a continuum of restorative justice practices keyed to the nature of the situation. In addition to interventions, preventive techniques are also used. Methods include restorative conversations, classroom circles, conflict circles, attendance circles, restorative justice conferences, re-entry conferences and restorative behavior intervention seminars.
Five Implementation Strategies That Made a Difference*
Cultivate a sound working relationship with the client served.

Maintain a Competent Facilitator Pool.

Track Lessons Learned.

Adhere to Best Practices.

Document your experience.
Advice from Northern Virginia Mediation Services based on their experience working with Fairfax County Public Schools.
Fairfax school district's community partner is Northern Virginia Mediation Service (NVMS), which provides trained volunteer facilitators, many who are retired from the school district, to help with restorative justice when Shoap and Wichman-Buescher have too many other cases on their plate. Referred cases include fighting, bullying, hostile and threatening behavior, disrespect, property-related offenses and attendance, with 184 cases handled by NVMS from Fiscal Year 2009 to 2013. NVMS has also explored restorative justice programs in coordination with the Fairfax County Police Department and the juvenile court.
Some of the push for restorative justice in the schools has come from Fairfax Zero Tolerance Reform, a group of concerned citizens – parents, coaches, teachers, therapists, students, and others – who convened in 2006 to fight for reform disciplinary policies and their implementation.
Ulli Vaerst, who has been trained as a trainer by IIRP to deliver "Introduction to Restorative Practices," has recently been hired as a Restorative Behavior Resource Teacher for Fairfax County Public Schools. This is a pilot program which she says is the first of its kind in Virginia.
Vicki Shoap said, "I am most excited by the growth of the Restorative Justice Initiative in FCPS. We have the support of administrators who have embraced the concepts of restorative justice and worked to provide us support to move the initiative forward. This school year restorative justice is an 'official' discipline option for administrators. RJ discipline conferences can be offered rather than suspensions, circles for conflicts, and students can also attend the RBI-Restorative Behavior Intervention Seminar.
"The RBI is a 5 day intervention program for more serious incidents of wrongdoing open to grades 7 to 9 (to start with) based in restorative practices and teaching and modeling conflict resolution and communication skills. Students attend an RJ circle or conference at the end of the week and/or create a plan to repair the harm.
"It's exciting to see the growth of RJ in a large multi-cultural system like FCPS, and yet it remains a challenge. Change is always difficult. These first few years have been very encouraging."
Read more and find links to two videos about FCPS's restorative justice program.
---
*From an article by David Deal, a restorative justice coordinator for NVMS. Download the article, "Fairfax County Virginia's Integrated Restorative Justice Program."