Chicago Public Schools (CPS), the third largest district in the U.S., is collaborating with more than two dozen Chicago-based organizations to end the school-to-prison pipeline by implementing restorative practices.
Student explains the use of a talking piece during a circle at Umoja's 2013 Community Builders "Safe Spaces" summer internship.Ten years of grassroots organizing and practice has raised community awareness and helped demonstrate the effectiveness of restorative justice. Efforts have also led to policy changes, such as the revision of the CPS Student Code of Conduct and the city's Juvenile Justice Code, which explicitly include restorative justice. Balanced and Restorative Justice, according to the CPS Student Code of Conduct include "ways of thinking about and responding to conflicts and problems by involving all participants to identify what happened, describe how it affected everyone, and find solutions to make things right."
Now, says Edwin Johnson, a Behavior Health Specialist in the CPS Office of Social & Emotional Learning (OSEL), "We're focusing on creating a restorative culture." He says the district is moving beyond responsive restorative justice and striving to instill a broadly proactive approach.
According to OSEL's Restorative Practices Guidelines, "CPS has adopted the term 'Restorative Practices' rather than Restorative Justice to move towards a focus on prevention as well as intervention. ... Using Restorative Practices proactively builds a sense of community through the development of relationships that can result in fewer interventions later."
Johnson adds, "We want to use restorative language versus what we call 'alienating language.' That means asking restorative questions and getting people to use affective statements."
Preventing a suspension
Chastity Owens, director of social services at Perspectives Charter Schools, which operates five open-enrollment public schools serving 2,300 students in grades 6-12, recently took on a dean role at the High School of Technology employing a restorative approach. When a student entered class loudly and then cursed when confronted, her teacher sent her to Owens. Owens asked the student restorative questions, "What happened?" "Who was affected?" and "What can you do to make things right?" While the student admitted what she'd done, she refused to take responsibility for her actions and said, "I don't need to apologize. People get cursed out all the time!"
Owens decided to organize a small, restorative conference the next day with the student, her mother and the teacher. During the conference, the teacher used affective statements, such as "I feel frustrated with you that you were talking while I was trying to teach. I get distracted and lose my train of thought. It makes me feel that the time that I spent preparing is wasted and not appreciated." The girl was more cooperative in her mother's presence than she had been the day before. She began to understand how her actions affected her mother, who had to take time out of her day to meet with the school. The girl also apologized to both the teacher and to Owens. Owens commented that the conference provided a meaningful resolution and prevented a suspension.
Peace Rooms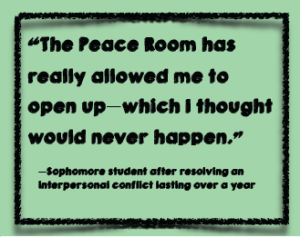 Student testimonial from an Umoja posterIlana Walden is Chief Strategy Officer of Umoja Student Development Corporation, a nonprofit founded in 1997 with the mission of equipping students to "confidently claim their future." In 2010 Umoja piloted a whole-school approach incorporating Peace Rooms, now running in six CPS high schools.
Peace Rooms provide "a space where students, teachers, and other school staff can go as an alternative to traditional punitive discipline measures. Additionally, the Peace Room plays a key role in creating and maintaining a restorative culture in schools by fostering community and connection." Walden says its model "does not just involve implementing restorative practices but truly partnering with schools to envision a culture and climate where every aspect is based in restorative justice principles and practices."
The four schools Umoja worked with in 2013-14 reported an 11% decrease in out-of-school suspensions for the year, with one school seeing a 72% decrease in suspensions during its first year of implementation.
Story continues below...
Listen to a short radio interview about an Umoja Peace Room at Lincoln Park High School
A collaborative spirit
Umoja is just one of a number of organizations that are part of a collaborative called Embrace Restorative Justice in Schools (Embrace) whose goal is to stem violence in schools and communities. The group aims to "end the school-to-prison pipeline in CPS by shifting the culture in the district from punitive to restorative, ultimately to a culture of caring."
The Mansfield Institute for Social Justice and Transformation, (MISTJ) at Roosevelt University, is the convening organization of the Embrace RJ in Schools Collaborative. MISJT's mission is to "raise awareness of social justice while engaging in action-oriented projects that lead to social change." Its specific focus and research over the last five years has been on the school-to prison-pipeline, of which punitive school policy has been a significant component.
The institute's research and advocacy work with community partners pointed to the need and effectiveness of restorative justice. In addition to advocacy, the group also provides restorative practices in two schools.
"This work leads to transformative learning opportunities for our students while at the same time transforming the community," reads a Mansfield Institute statement.
Alternatives, Inc., which has been working in CPS longer than any other organization, began its Restorative Justice Program in 1996 at Senn High School. Last year the organization trained students and staff in 155 schools. In addition to Embrace, Alternatives, Inc. also works with the Safe Schools Consortium of the Chicago Teachers Union Quest Center and Voices of Youth in Chicago Education, a youth organizing collaborative for education and racial justice led by students of color from six community organizations across Chicago.
Collaborative efforts are also at work in the justice field. Ten years ago Judge Sophia Hall started the Cook County Restorative Justice Committee, which held annual meetings of 10 to 15 people and now attracts over 100 attendees to its quarterly citywide meetings. The statewide organization, the Illinois Balanced and Restorative Justice Project, supports the work both in Chicago schools and the criminal justice sector and assists communities throughout Illinois to establish collaborative efforts for building and sustaining restorative justice practices.
A research component
In another project with CPS, the IIRP is training administrators, teachers and staff, including security, secretaries and cafeteria staff at John Hope High School and Gage Park High School to implement the SaferSanerSchools Whole-school Change program as part of an ongoing research project of the Johns Hopkins University and Diplomas Now.
Greg Ekey, Chicago Field Manager for Diplomas Now, an organization that works with 33 schools in 13 cities and whose mission is to help high-poverty high schools achieve college- and career-ready graduation rates, says that the two schools have just been trained in restorative practices. Ekey says, "Both schools are taking to it surprisingly quickly. By week two, teachers were using simple circles in classrooms and having some culture and climate success right away."
Professional learning groups, organized by grade level, are starting up to champion various elements of restorative practices, like "affective questions" or "small, impromptu conferences," and to share practice with one another.
Says Ekey, "We're hoping for a number of things at both schools. One, to help all staff members have a more impactful role in the school by being more empathetic to the students they're serving and to be able to tailor their work and feel more successful in themselves.
"We also hope restorative practices starts instilling in the students being served some new language and new approaches for dealing with conflicts as they inevitably arise, not only in school but also outside the school as they run into difficult situations.
"Finally, we hope to build a culture where people are more intentional and more empathetic and can create a culture more focused on student growth and not get sidetracked by everyday personal conflicts that arise, but be able to put them aside quickly so energies can be better used."
Advocates in these efforts see restorative practices as different from simply "implementing a new program." They seek a fundamental transformation of how young people are treated in Chicago.
Says Walden, "It will be critical for CPS, in partnership with Embrace and other community organizations, to develop a restorative justice model that leads to a true paradigm shift in how schools do business."
---
Thanks to Ilana Weldon for major contributions to this piece and for reaching out to community partners for their invaluable input.